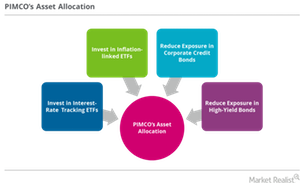 Pimco Recommends These Assets in Present Scenario
By Sarah Sands

Updated
Pimco on asset allocation
In the previous part, we saw that Pimco, one of the world's largest asset management firms, has warned investors to be cautious with the equity market. The firm's global economic adviser, Joachim Fels, suggested an asset allocation strategy.
The Fed started its gradual rate hike process in December 2015, and it could accelerate rate hikes in the future. Fels believes rate hikes will be more aggressive in the US (SPX-INDEX) (SPY) than anticipated. The improving economic condition, inflationary situation, and expectation for higher fiscal stimulus will support the Fed's rate hike process.
Becuase inflation is expected to rise, Fels advised investors to consider inflation-linked bonds. The iShares Intnl Inflation-Linked Bond and the iShares Global Inflation-Linked Bond (GTIP) are two inflation-linked bond ETFs.
Article continues below advertisement
If interest rates rise in the US (QQQ) (IWM), it could push up the bond yield. Bond yields and bond prices are inversely related. However, Joachim Fels also added that his firm might cut positions in corporate credit bonds and high-yield bonds. The firm has also reduced its positions in some assets that have higher correlations to the equity market.
Read David Einhorn Buys Twitter Share: Is the Stock Undervalued for more analysis.