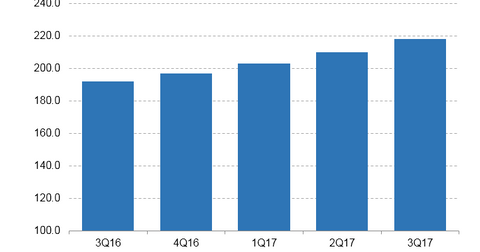 Why PayPal Might Have Another Look at Bitcoin
By Ruchi Gupta

Updated
PayPal allowed merchants to accept bitcoin for payment
PayPal (PYPL) introduced a way for merchants on its network to accept bitcoin payments. It introduced the bitcoin payments processing service for merchants in 2014 through its Braintree unit.
PayPal rolled out the bitcoin payments service when it was still part of eBay (EBAY). The company separated from eBay in 2015 when it went public.
PayPal has partnered with leading cryptocurrency exchanges Coinbase, BitPay, and GoCoin to back its bitcoin payments service. That move happened at a time when large companies such as Dish Network (DISH), Expedia (EXPE), and Overstock.com (OSTK) were endorsing bitcoin as a means of payment.
Article continues below advertisement
Initial attempt saw low response
However, in a recent comment published in the Wall Street Journal, a PayPal spokeswoman told the newspaper that the company saw a low response from merchants accepting bitcoin payments. Additionally, consumers on the platform showed tepid interest in paying with bitcoin.
PayPal's bitcoin payment service was largely an experiment. In a blog post, its director of corporate strategy, Scott Ellison, stated, "We're proceeding gradually, supporting bitcoin in some ways today and holding off on other ways until we see how things develop."
PayPal aiming for comprehensive financial services
Apparently, PayPal didn't expect instant success with its initial involvement with bitcoin, and it hoped the future would bring more opportunities in the virtual currency world.
With PayPal having recently partnered with Acorns Grow to automatically invest payment change on behalf of its subscribers, perhaps the company might have a second look at bitcoin. Square (SQ), for instance, recently introduced a way for users of its Square Cash app to buy and sell bitcoin for profits. This move is a signal that PayPal might want to consider now that it seeks to offer its subscribers more comprehensive financial services that include investment.
PayPal closed 3Q17 with 218 million active customer accounts, which has grown as shown in the chart above.