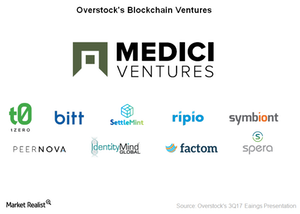 KODAKCoin to Be Overstock's First Token Offering
By Victoria Dean

Updated
tZero to trade KODAKCoin
On January 17, 2018, Overstock (OSTK) moved higher as its subsidiary, tZERO, announced that it had chosen KODAKCoin as its first offering for its security token platform. The third-party security token will be launched on tZERO's trading platform in fiscal 1Q18. Following the news, Overstock stock closed at $75.65, up 7.7% on January 17. According to the press release, tZERO will be providing various services like end-to-end advisory and trading services along with help on the technical implementation of KODAKCoin and know-your-customer verification services. Overstock holds the majority stake in tZERO, which is an SEC-compliant ATS (alternative trading system) for security tokens.
Article continues below advertisement
What is KODAKCoin?
On January 9, 2018, KODAKCoin, a cryptocurrency centered on photos, came into existence as a result of a partnership between Eastman Kodak Company (KODK) and WENN Digital. The partnership also resulted in the formation of KODAKOne, a blockchain-based platform to maintain photographers' ownership rights.
Blockchain, bitcoin, and a host of other cryptocurrencies have taken the world by storm over the past few months. A cryptocurrency is a digital currency that uses cryptography to ensure safe peer-to-peer payments and eliminates the need for financial intermediaries. It is decentralized. Blockchain is the underlying technology for bitcoin and other cryptocurrencies.
Overstock's blockchain efforts
Overstock's CEO, Patrick Byrne, has mentioned several times that blockchain could turn out to be a bigger revolution than the Internet. Last December, we saw a flurry of activities at Overstock, which included the launch of the first ICO (initial coin offering) by tZERO. Through tZERO, the company also acquired a 1% stake in Siebert Financial's parent company, Kennedy Cabot. Byrne also collaborated with a Peruvian economist to build a property rights blockchain. To fund its blockchain efforts, the company is considering selling its online retail division.
In the next article, we'll discuss the recent slump in cryptocurrency trading and how it could impact Overstock.