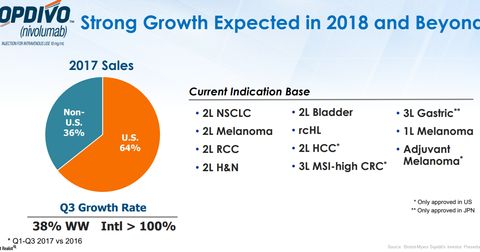 Opdivo Could Be Key Revenue Driver for Bristol-Myers Squibb in 2018
By Daniel Collins

Updated
Recent approval
In December 2017, the U.S. FDA (Food and Drug Administration) approved Bristol-Myers Squibb's (BMY) Opdivo as adjuvant therapy for individuals with melanoma with the involvement of lymph nodes or metastatic disease who have undergone complete resection. The objective of the adjuvant therapy is to reduce the risk of recurrence after surgical removal of the tumor.
Article continues below advertisement
Phase 3 CheckMate 238 trial
The FDA approval of Opdivo was based on the results of the phase 3 CheckMate 238 trial. In the trial, Opdivo demonstrated significant improvement in recurrence-free survival (or RFS) compared to Yervoy in individuals with stage IIIB/C or stage IV melanoma after surgery. The benefit of adjuvant therapy was reported across both BRAF mutant and BRAF-wild subgroup patients.
In the trial, patients on Opdivo demonstrated an 18-month RFS rate of 66.4% compared to 52.7% for patients on Yervoy. Opdivo demonstrated a decrease in the risk of disease recurrence by 35% compared to Yervoy.
In the trial, 9% of patients receiving Opdivo had to discontinue due to adverse events compared to 42% of patients treated with Yervoy. In September 2017, the FDA granted Opdivo a Breakthrough Therapy Designation (or BTD) for the adjuvant treatment of individuals with increased-risk fully resected melanoma.
Bristol-Myers Squibb has modernized the use of immune checkpoint inhibitors for the adjuvant treatment of melanoma. In the melanoma drugs market, some important drugs include Roche's (RHHBY) Cotellic and Zelboraf, Novartis's (NVS) Tafinlar+Mekinist, and Merck's (MRK) Keytruda. Growth in Opdivo sales could boost the Vanguard Total Stock Market ETF (VTI). Bristol-Myers Squibb makes up about 0.38% of VTI's total portfolio holding.