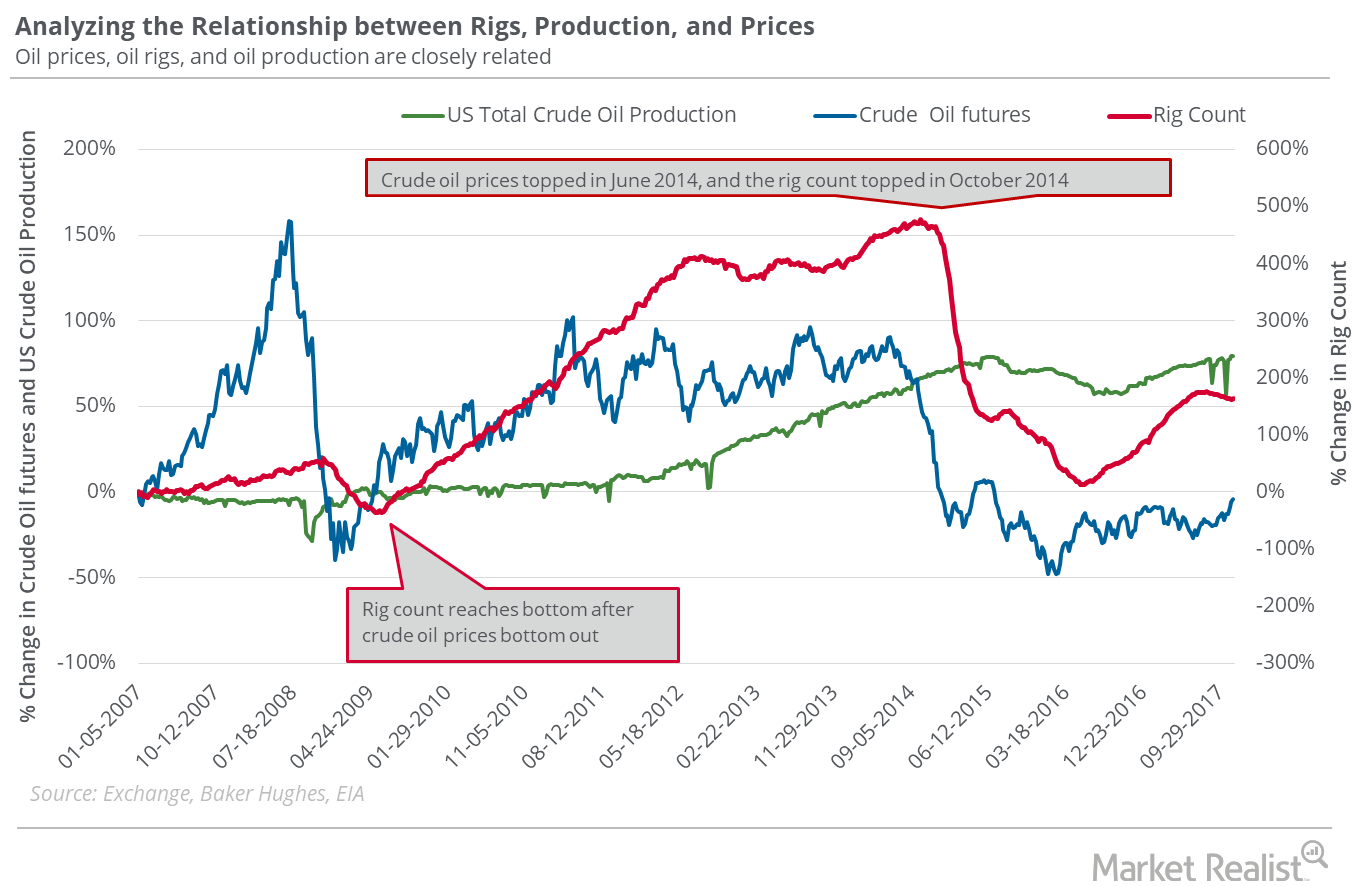 Why Oil Rigs Could Stymie Oil's Gains
By Rabindra Samanta

Nov. 20 2020, Updated 4:33 p.m. ET
Oil rig count
For the week ended December 29, 2017, the US oil rig count was unchanged at 747, but it has risen 42.3% from last year. On a year-over-year basis, US crude oil production rose 11.3%, and US crude oil prices rose 12.4%. A rise in the oil rig count could increase supply and stymie the rise of oil.
In fact, oil prices and the oil rig count have a broad positive relationship. Oil prices lead the oil rig count by three to six months. In February 2016, we saw US crude oil hit its 12-year lowest closing price. After a gap of three months, in May 2016, the oil rig count also declined to its 6.5-year low of 316.
From the low, US crude oil prices recovered 130.5%. The oil rig count has also doubled from its low. From May 2016 to date, US crude oil production has risen 11.7%. So rising oil rigs could be a leading indicator for US crude oil production. However, that could, in turn, pressure oil prices.
On December 29, 2017, US crude oil active futures closed at their 2017 highest closing price. Applying this pattern, we could see the oil rig count at a new three-year high by June 2018.
Article continues below advertisement
Energy stocks engaged in oil production (XLE) (FENY) could be negatively impacted by a rise in the oil rig count if their rise in production fails to offset the effect of the fall in oil prices. That could be a concern for the energy exposure of the S&P 500 (SPY) and the Dow Jones Industrial Average (DIA).