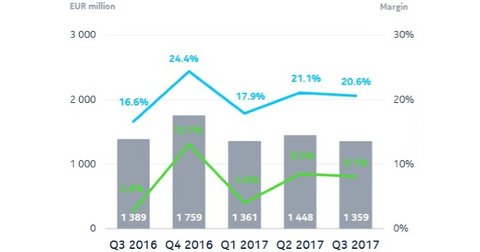 Nokia Is Trying to Rejig Its Services Business
By Ruchi Gupta

Updated
Updated NetGuard security software
In a time of soft demand for telecommunications equipment due to 4G (fourth-generation) network deployments peaking in key markets, Nokia (NOK) is looking to its services business to try to stimulate growth. Its recent release of an advanced version of the Nokia NetGuard security software highlights this strategy.
Nokia recently announced the availability of the next generation of NetGuard security software, saying that the latest version integrates analytics and automation to proactively protect networks against sophisticated ransomware and other forms of malware threats.
Article continues below advertisement
The WannaCry menace
The frustrations caused by the WannaCry and Petya ransomware attacks earlier this year are still fresh in the memories of many, and the new version of Nokia's security solution comes at a time when security teams at many companies may be rethinking the security of their systems. WannaCry ransomware infected more than 230,000 computers in 150 countries, making it the largest ransomware attack on record.
Nokia claims that its new NetGuard software is capable of probing 100% of alerts while eliminating up to 70% of false alerts. Given the rapid increase in data volumes and variety, it's estimated that up to 70% of security alerts are never investigated, and Nokia says its new security software can change that at 50% lower costs.
Security mobile networks to cost nearly $16 billion
MarketsandMarkets predicts that global spending on wireless network security will reach $15.6 billion by 2020. Grabbing a slice of this market could boost Nokia's global services sales, which fell 2.0% in 3Q17.
However, as much as Nokia has heritage and expertise to count on, security is a highly competitive market. The pursuit of the nearly $16 billion wireless network security market will bring it into more competition with Cisco Systems (CSCO), FireEye (FEYE), and Palo Alto Networks (PANW). Cisco is a collaborator of Nokia's telecom equipment rival Ericsson (ERIC).