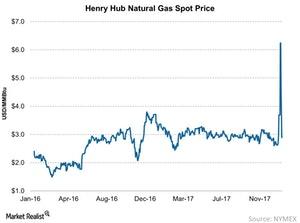 Natural Gas Prices for the Week Ending January 12
By Adam Jones

Updated
Natural gas
Natural gas is one of the critical input materials needed for nitrogen and some phosphate-based fertilizers. Natural gas prices can account for more than 60% of the cost for nitrogen players (MOO) that use natural gas. Producers in China have primarily been using coal to produce nitrogen fertilizers.
Article continues below advertisement
Weekly movements
Natural gas prices, just like the prices of any commodity, are driven by supply and demand dynamics. When demand exceeds supply, it might lead to a spike in prices. Two weeks ago, we saw this in action with the natural gas prices at Henry Hub rising to as much as $6.24 per MMBtu (million British thermal units) from the average levels of $2.9 per MMBtu. The spike in natural gas prices was driven by higher demand for natural gas due to unusually low temperatures in North America, which led to higher heating needs supported by natural gas.
Since such events aren't predictable, natural gas prices are very volatile. A higher movement in natural gas prices has a negative impact on nitrogen fertilizer producers (XLB) like CF Industries (CF), Nutrien (NTR), Terra Nitrogen (TNH), and CVR Partners (UAN). Several of the nitrogen players are aware of the volatility in natural gas on their bottom lines. Therefore, it isn't unusual to have natural gas positions hedged.
Forecast
Volatility also makes the forecast less useful. Recently, the EIA (U.S. Energy Information Administration) published its Short-Term Energy Outlook on January 9, 2018. The EIA forecast that natural gas prices in 2018 will average $2.88 per MMBtu. In 2019, natural gas prices are forecast to average $2.92 per MMBtu.