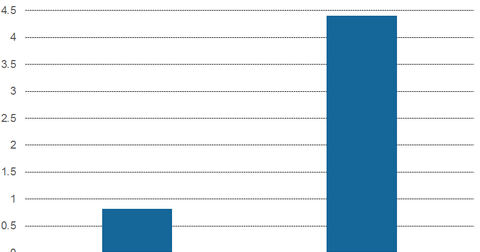 What Negatively Affected EA's Stock Price Recently?
By Adam Rogers

Updated
EA stock has fallen over 12% since November
Investment research company Cowen reduced its price target and revenue forecast for Electronic Arts (EA) as a result of lower-than-expected sales for the company's Star Wars Battlefront II title. A negative reaction from players led to EA's temporarily disabling microtransactions (or MTX) for the game.
Players have vented their frustrations on social media and accused EA of unfairly charging gamers for content via microtransactions. Users believe these content updates should have been part of the game's initial price of $60.
Analyst Doug Creutz stated, "We are lowering our FY18 estimates to below management's guidance as we believe that Star Wars Battlefront 2's performance (lower units + the indefinite delay of MTX) has been disappointing enough to more than offset any strength elsewhere in the model."
Article continues below advertisement
Although Creutz maintained a "market perform" rating on EA stock, he cut the stock's 12-month price target to $104 from $106. Electronic Arts is currently trading at $105.23. Creutz lowered unit sales estimates for Star Wars Battlefront II to 11 million units, compared to the earlier estimate of 14 million units in fiscal 2018. This also resulted in a lower EPS (earnings per share) forecast in fiscal 2018 to $4.08 from $4.24.
Cowen believes that rising digital sales won't be able to offset the fall in retail sales.
Launched on November 17
On November 16, 2017, EA announced that it would temporarily stop in-game purchases for Star Wars Battlefront II, which launched one day later. Bank of America Merrill Lynch (BAC) lowered its price target on EA to $130 from $137, while it lowered its EPS target to $4.22 from $4.28.
According to NPD data, physical unit sales of Star Wars Battlefront II have been 52% lower in the first month compared to sales of Star Wars Battlefront, which was released in November 2015. NPD has estimated sales of 882,000 units for Battlefront II in November 2017. Comparatively, NPD has estimated sales of 4.4 million units for Activision's (ATVI) blockbuster franchise Call of Duty: WWII—although it was released two weeks earlier than Star Wars.