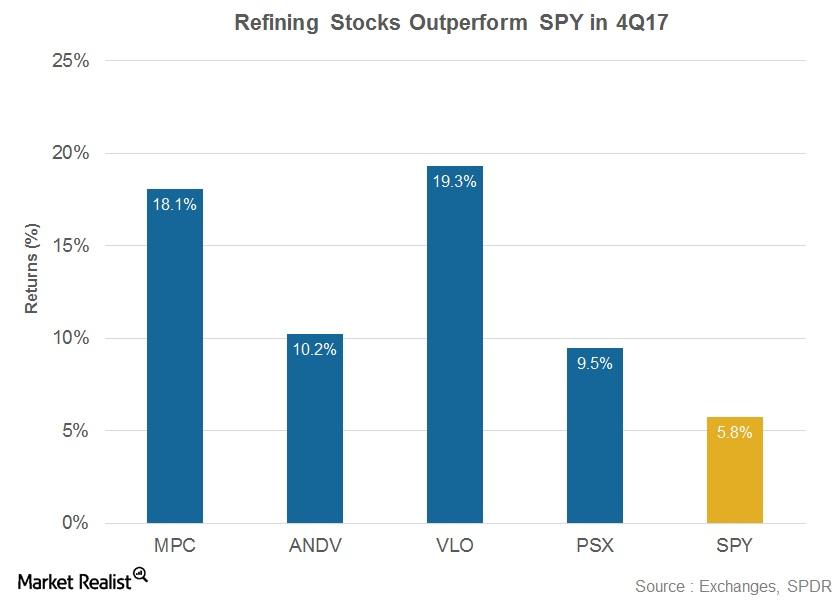 MPC, ANDV, VLO, PSX: Why Refining Stocks Have Outperformed SPY in 4Q17
By Maitali Ramkumar

Oct. 29 2019, Updated 10:43 p.m. ET
Refining stocks' performance
In 4Q17, from October 2, 2017, to December 29, 2017, Valero Energy (VLO) rose 19.3%, the highest among its peers. Its peers Marathon Petroleum (MPC), Andeavor (ANDV), and Phillips 66 (PSX) rose 18.1%, 10.2%, and 9.5%, respectively, in the fourth quarter.
However, the SPDR S&P 500 ETF (SPY), the broader market indicator, has risen 5.8%. Thus, refining stocks have outperformed SPY in 4Q17. Let' look at what led to the rise in refining stocks in the quarter.
Article continues below advertisement
Refining stocks rose in 4Q17
In 4Q17, refining stocks announced their 3Q17 earnings and posted a strong set of numbers. In terms of beats and misses, refining stocks put up a mixed performance. While MPC, VLO, and PSX surpassed their earnings estimates, ANDV missed it.
The EIA (U.S. Energy Information Administration) reported a fall in distillate inventory for the week ended December 22, 2017, over the week ended September 29, 2017. However, gasoline inventories rose in the stated period.
The tax reform bill, which was signed in December, cut the corporate tax from 35% to 21%. This could bring in large benefits for refiners in the form of larger net earnings and cash flows. This could have possibly boosted these stocks.
Refining margin indicators posted by ANDV, MPC, and VLO show weaker refining earnings for these firms in 4Q17 over 3Q17. We'll discuss the indicators in detail later in the series.
In short…
In 4Q17, refining stocks rose due to strong 3Q17 earnings, tax reforms, and a decrease in distillate inventory levels in the market. However, this was partly offset by a quarter-over-quarter decline in refining margin indicators in 4Q17.
Series outline
In this series, we'll do a cross-sectional analysis of refining stocks. In the next few parts, we will examine their moving average crossovers followed by their 1Q18 price forecast based on their implied volatility.
We'll also look at their analyst ratings, expected dividends for the next quarter, forward valuations, short interest changes, and institutional holdings changes. We'll also look at expected refining margins of MPC, VLO, and ANDV for 4Q17.
Move to the next part to know how the refining stocks' 50-day and 200-day moving averages changed in 4Q17.