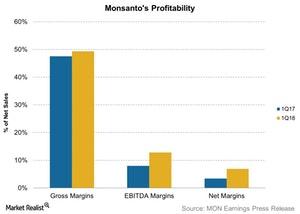 Monsanto's 1Q18 Profitability and Outlook
By Adam Jones

Updated
Monsanto's profitability
Monsanto (MON) was able to deliver an improvement in profitability YoY (year-over-year). As we discussed previously, the gross margins contracted from 43% to 42.6%.
Article continues below advertisement
EBITDA and net margins
Monsanto's adjusted EBITDA (earnings before interest, tax, depreciation, and amortization) margins expanded YoY from 8% to 12.8% YoY. The company's net margins rose from 3.4% to 6.9% during the same period. Most of the improvement in Monsanto's quarterly margins improved due to the Soybean segment's sales growth. However, the growth in margins from the Soybean segment was offset by a fall in the Corn segment.
To compare Monsanto's profitability with its peers (XLB) like Syngenta (SYT), FMC (FMC), and DowDuPont (DWDP), read An In-Depth Review of Monsanto Company's 2016.
Outlook
In its press release, the company stated that the improvements in glyphosate pricing, adoption of its soybean technology like the INTACTA RR2 PRO and Roundup Ready 2 Xtend, the Bollgard II XtendFlex, and corn hybrids are expected to remain its growth drivers. For its Agricultural Productivity segment, the company stated that the "volumes of XtendiMax® Herbicide with VaporGrip® Technology are expected to expand as acreage grows." Since Monsanto is awaiting a merger with Bayer, it refrained from providing an additional outlook for fiscal 2018.