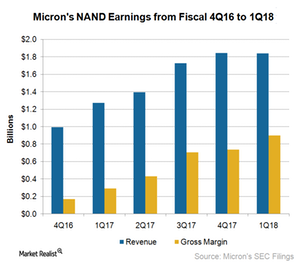 How Might Micron's NAND Business Perform in Fiscal 2018?
By Puja Tayal

Dec. 4 2020, Updated 10:52 a.m. ET
Micron's NAND business
Micron Technology (MU) is the fourth-largest NAND (negative AND) manufacturer by revenue, but its 3D NAND puts it on top in terms of technology.
Micron was mainly focused on DRAM (dynamic random-access memory) until 2016. However, the appointment of Sanjay Mehrotra—cofounder of the second-largest NAND manufacturer, SanDisk, which was acquired by Western Digital (WDC) in 2016—as Micron's CEO brought renewed focus on NAND, enterprise SSDs (solid-state drive) in particular.
Micron earns 30% of its revenue from NAND. However, its contribution to Micron's revenue fell to 27% in fiscal 1Q18 largely due to a falling ASP (average selling price).
Article continues below advertisement
NAND revenue
Micron's NAND revenue is a function of bit growth (volume) and ASP. On a sequential basis, the company's NAND volume rose 4%–6%, and its ASP fell 2%–4%. This saw Micron's NAND revenue rise 2% sequentially and 47% YoY (year-over-year) to $1.8 billion in fiscal 1Q18.
Micron's revenue was driven by strong demand in the SSD, mobile, and embedded markets. Micron's enterprise SSD revenue rose 50% sequentially in fiscal 1Q18. This strong SSD demand is expected to continue in 2018 as falling NAND ASPs boost SSD adoption in PCs (personal computer) and servers.
NAND gross margin
Micron's non-GAAP (generally accepted accounting principles) gross margin from trade NAND more than doubled from 23% in fiscal 1Q17 to 49% in fiscal 1Q18. In dollar terms, MU's gross profit rose threefold from $292 million to $900 million during the same period.
The company's gross margin expanded despite falling NAND ASP because of a richer product mix. Micron has sold its low-margin retail SSD business, Lexar, to focus on high-margin products.
Intel-Micron NAND partnership
In January 2018, Intel (INTC) terminated its NAND partnership with Micron. The two will jointly develop the third generation of 3D NAND then develop future generations of 3D NAND separately. Under the partnership, Micron also supplied 3D NAND to Intel at near cost.
The termination of this partnership could see Micron lose Intel's R&D (research and development) support, increasing its expenses. Micron can either lose 3D NAND orders from Intel, enter into a new wafer supply agreement with Intel, or sell that NAND output to someone else at market price.
The true impact of this termination will be seen in Micron's fiscal 2019 earnings. In the meantime, Micron is making efforts to boost its NAND output by focusing on advanced architecture and specialized memory. We'll look into this in the next part of the series.