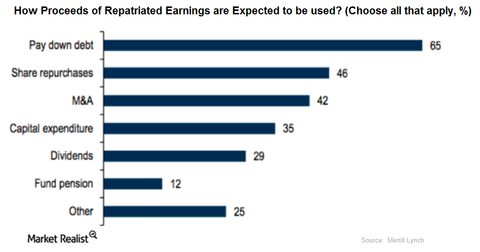 How Microsoft Might Spend Its Repatriated Cash
By Anne Shields

Updated
Debt repayment could dominate repatriated cash
Earlier in this series, we looked at Microsoft's (MSFT) position among the top 16 US companies that collectively have $1 trillion in cash. A survey by Bank of America Merrill Lynch (BAC) in late 2016 highlighted companies' priorities in using overseas cash. Debt repayment emerged as the first priority. Share buybacks and M&A (mergers and acquisitions) followed in second and third place, respectively, as you can see in the chart below.
Recently, a Goldman Sachs (GS) analysis reported that the tax reform initiative could increase corporate buybacks in 2018 by $75 billion to reach $590 billion.
Article continues below advertisement
Debt lowering and increased buybacks could be in the cards
Considering debt repayment is a priority, Microsoft could be planning to lessen its debt load. Despite having significant cash reserves, Microsoft resorted to debt in order to finance the acquisition of LinkedIn to avoid a hefty tax bill and take the benefit of a low interest rate environment.
Currently, Microsoft has about $90 billion in debt with a TTM (trailing 12-month) cash flow of $40 billion. Microsoft could aim to retire some of this debt and match the results of the S&P (VOO) companies polled above.
In its capital return program, Microsoft's inclination has been more toward dividends than share repurchases. In the last 12 months, it has repurchased shares worth $10 billion and returned $12 billion in dividends. With a dividend yield just under 2%, an increase in the quarterly dividend could be a likely scenario for Microsoft.