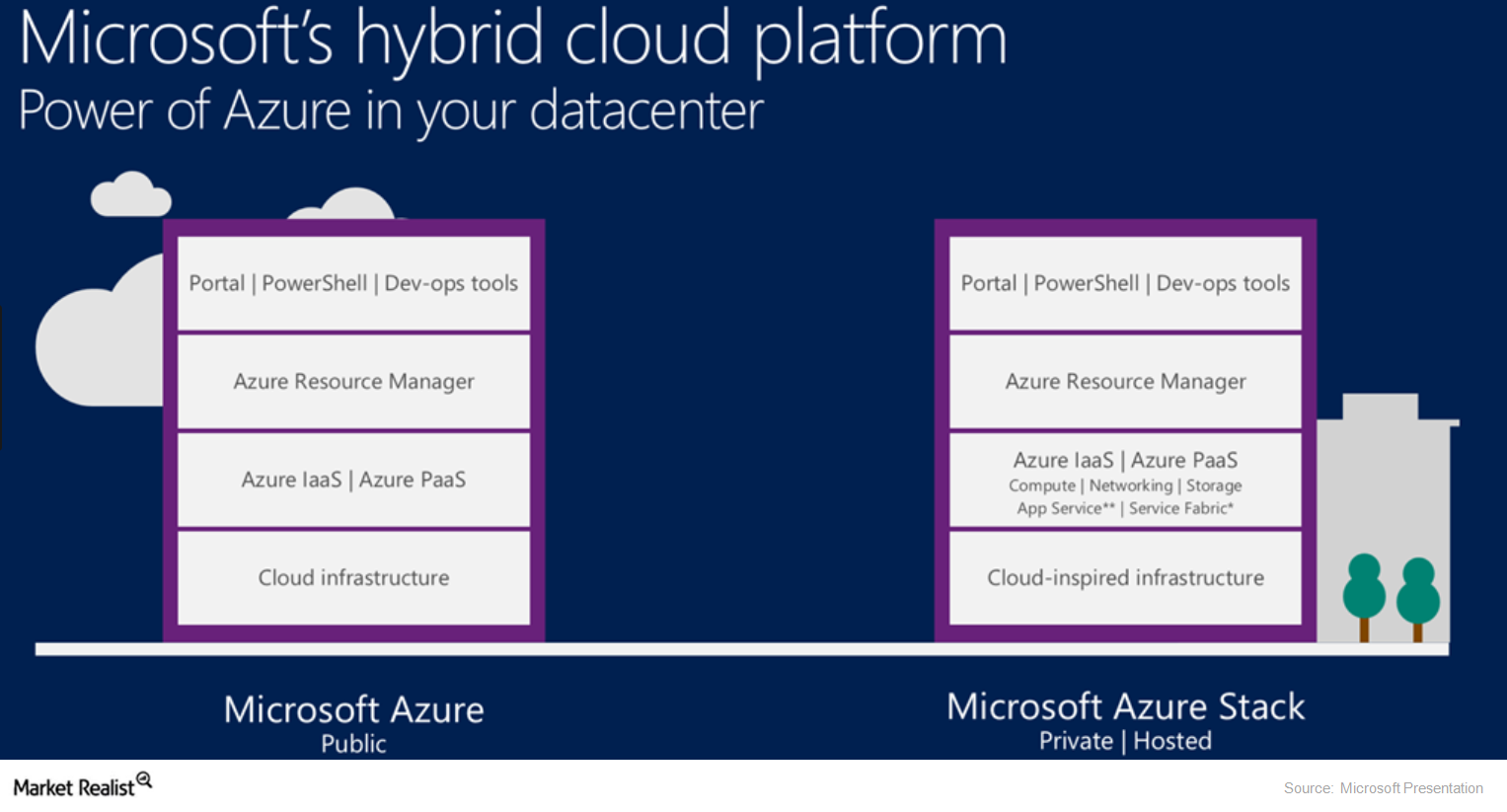 Microsoft and Avere Systems: A Step Forward in Hybrid Cloud?
By Anne Shields

Dec. 4 2020, Updated 10:42 a.m. ET
Avere could boost Azure's capabilities in hybrid cloud space
Earlier in this series, we saw that Microsoft's (MSFT) Azure, its cloud computing platform, could get a boost from the acquisition of Avere Systems. Hybrid cloud is preferred by customers since it lets them use their vast legacy IT (information technology) investments while making a transition to the cloud. Avere's USP (unique selling point) is that it enables enterprises to deploy not only storage but also computing resources across remote offices, multiple data centers, public clouds, and private clouds.
In a blog post, Ron Bianchini, Avere's chief executive officer, wrote that Avere "will be joining Microsoft to continue our mission to enable the most demanding Enterprise workloads to run in the datacenter, in the cloud and in hybrid cloud environments."
Article continues below advertisement
Microsoft has a long-standing presence in the enterprise software space. It's adept at understanding and dealing with the requirements of its customers who are straddled with the complex IT (information technology) environment that they have assembled in the past three to four decades. This flexibility to deal with the current new environments is Microsoft's underlying strength.
Microsoft Office 365 and Azure have both benefited from Microsoft's standing in the enterprise software space since they leveraged the company's enormous installed base to increase their adoption.
Microsoft's take on the hybrid cloud space
Microsoft launched Azure Stack in mid-2017 to target companies and industries that prefer the hybrid cloud's ability. Azure Stack, an extension of Azure, is Microsoft's private and hybrid cloud offering. Azure Stack enables companies to build an application that works exactly in on-premise environments as it works in the Microsoft Azure Cloud with pay-per-usage pricing. Microsoft is empowering Azure to achieve its vision in the cloud space. In the past, we shared that among peer offerings, namely Amazon's AWS (Amazon Web Services), IBM's (International Business Machines) cloud, and Google's (GOOG) cloud, Azure is the most preferred.
Recently, the hybrid cloud space has been seeing a lot of activity. Microsoft is not the only company interested in the hybrid cloud space. In 2016, IBM (IBM), a leader in the hybrid cloud space, partnered with VMware (VMW). Amazon (AMZN) partnered with VMware (VMW) and offered VMware on AWS to gain a foothold in the rapidly adopted hybrid cloud space.
Microsoft's acquisition of Avere Systems is in sync with Microsoft's cloud strategy, which is gravitating toward rapid adoption in the hybrid cloud space.