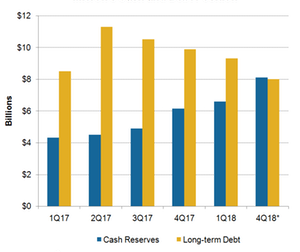 Micron's Debt Repayment Program for 2018
By Puja Tayal

Updated
Debt repayment
Micron Technology (MU) increased its operating cash flow more than threefold in just one year. High cash flows helped the company increase its cash reserve from $4.3 billion in fiscal 1Q17 to $6.6 billion in fiscal 1Q18.
The company's priority in fiscal 2018 is to reduce its debt and become net cash positive, where cash reserves are higher than its long-term debt.
In fiscal 1Q18, Micron raised $1.4 billion through an equity offering and used it to repay $2.4 billion in its principal amount of debt. As a result, Micron was able to reduce the face value of its debt to $9.3 billion, resulting in a net debt position of $2.7 billion.
Micron used ~$476.0 million of the net proceeds from the equity offering to redeem its 7.5% Senior Secured Notes due in 2023. It used the remaining proceeds from the equity offering to reduce other outstanding debt securities, including convertible debt.
Peer Advanced Micro Devices (AMD) reduced its debt by raising money through the equity offering in fiscal 2017.
Article continues below advertisement
Micron's new equity offering would dilute the shareholder value. The company would mitigate the dilutive effect of the new equity offering by reducing its interest expenses through debt repayment. Micron would increase interest income from the larger cash balance and settle the convertible debt in cash.
Target
Micron aims to reduce its debt to $8.0 billion, becoming net cash positive by the end of fiscal 4Q18. This means the company aims to increase its cash reserve by $1.5 billion to more than $8.0 billion by the end of fiscal 4Q18.
Micron aims to reduce its non-GAAP[1. generally accepted accounting principle] net interest expense from $100.0 million in fiscal 4Q17 to $25.0 million–$30.0 million by fiscal 4Q18.
Micron has accelerated its deleveraging process to show investors and rating agencies that it is focused on strengthening its balance sheet. It aims to achieve an investment-grade rating, which could open up new sources of funding at lower rates.
The cyclical nature of Micron's business, uncertain cash flows, and high leverage increase its risk. First, it is addressing the leverage issue. Next, it looks to remain cash flow neutral even during the downturn by improving cost-competitiveness. It is also switching to specialized memory products, such as graphics memory for NVIDIA (NVDA), that command higher prices.
Micron's two key cash priorities are to fund capital expenditure and repay debt. However, analysts are divided over which of the two is a bigger cash priority. We'll look at analysts' views on this issue in the next part of the series.