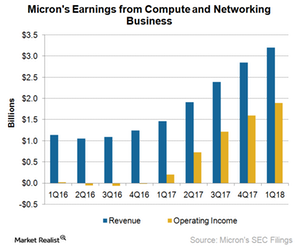 Micron's Compute and Networking Business Feels the Power of AI
By Puja Tayal

Updated
Compute and Networking business
Micron Technology (MU) has been the key benefactor of the rising DRAM (dynamic random access memory) prices, as it earns more than 60.0% of its revenues from DRAM. The advent of AI (artificial intelligence) and AR/VR (augmented reality/virtual reality) has been driving DRAM content per device, as such applications require more memory.
These two factors saw DRAM's contribution to Micron Technology's revenues increase from 61.0% in fiscal 1Q17 to 67.0% in fiscal 1Q18. The DRAM uptrend pushed Micron Technology's CNBU (Compute and Networking Business Unit) earnings to new highs. CNBU's revenue contribution rose from 37.0% to 47.0%, its highest level in more than two years.
CNBU primarily supplies DRAM products to five subsegments: graphics, enterprise, cloud, networking, and client (personal computers). Some of its key customers are Intel (INTC), NVIDIA (NVDA), and HP Inc. (HPQ).
Article continues below advertisement
CNBU earnings
Micron Technology's CNBU revenues rose 13.0% sequentially and 118.0% YoY (year-over-year) to $3.2 billion in fiscal 1Q18. CNBU's operating profits rose ninefold on a YoY basis from $204.0 million in fiscal 1Q17 to $1.9 billion in fiscal 1Q18, accounting for 60.0% of the company's overall operating income. This trend resulted in an operating margin of 59.4%, its highest margin in more than two years.
This strong profit trend resulted from a 56.0%–59.0% jump in DRAM ASP (average selling price) and production ramp of 1X DRAM. This trend reduced Micron Technology's DRAM production cost by 20.0% over the last year.
CNBU's earnings were mostly driven by increasing server memory content and strong demand for GDDR (graphics double data rate) DRAM.
Enterprise and Cloud
The advent of AI is seeing increasing demand for memory content among enterprise and cloud data centers. In fiscal 1Q18, DRAM bit shipments to enterprise and cloud customers rose more than 50.0% YoY. More than 25.0% of cloud revenues came from 1X DRAM.
NVIDIA has been reporting triple-digit YoY growth in data center revenues for the past six quarters. Intel has been reporting high single-digit YoY growth in data center revenues for the past five quarters. This trend shows continuing growth in the data center market.
Graphics
Fiscal 1Q is a seasonally strong quarter for graphics cards. With the growing popularity of esports, GPUs customer base has expanded from gamers to esports participants as well.
Micron Technology's revenues from graphics memory rose more than 75.0% YoY in fiscal 1Q18,[1. fiscal 1Q18 ended November 30, 2017] driven by strong demand for GPUs by gamers and cryptocurrency miners. This trend indicates that NVIDIA could report strong sales in its fiscal 4Q18 earnings. Graphics memory plays a key role in driving NVIDIA's growth.
Next, we'll see how trends in the graphics market could affect Micron Technology.