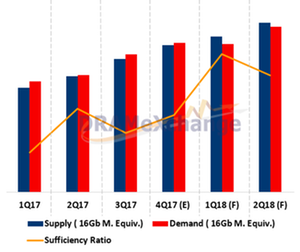 Should Micron Worry about Possible Oversupply in the NAND Market?
By Puja Tayal

Jan. 23 2018, Updated 9:02 a.m. ET
NAND demand
Unlike DRAM (dynamic random-access memory), NAND's (negative AND) demand is elastic, which means its demand will fall if prices rise. NAND flash is a nonvolatile storage technology that can retain data even when power is cut.
NAND is used in devices to increase maximum chip capacity at a lower cost. NAND is more of a performance enhancer than a prerequisite to delivering the desired performance. For this reason, device makers can refrain from adding more NAND content without affecting performance.
Article continues below advertisement
NAND demand picked up as PC (personal computer) OEMs (original equipment manufacturer) such as Hewlett-Packard (HPQ) and Lenovo started replacing HDDs (hard disk drive) with Flash SSDs (solid-state drive). Even servers are switching to SSDs, as NAND Flash offers a better value proposition in terms of power and performance.
NAND supply was tight in 2017 as key players transitioned from 2D to 3D technology. This tight supply increased NAND prices, which led to many customers holding back demand. Lower demand pushed down NAND prices even under tight supply conditions.
Micron Technology (MU) doesn't see falling NAND prices as a bad thing. In fact, the company sees it as an opportunity to expand the use of NAND in different applications and boost adoption in existing markets. Micron expects industry NAND demand to grow at an average annual rate of 45% between 2016 and 2020.
Article continues below advertisement
NAND supply
However, Micron also expects NAND industry supply to grow 40%–50% in 2018 as rivals such as SK Hynix and Toshiba (TOSBF) ramp up production of 64-layer 3D NAND. Supply is increasing more quickly as each successive transition brings incrementally more bits per wafer. This has raised concerns that the NAND market may face an oversupply situation due to the transition to successive nodes, causing a downturn in the NAND market.
Micron's CEO, Sanjay Mehrotra, addressed these concerns at the Credit Suisse 21st Annual Technology, Media & Telecom Conference. He explained that the transition from 32 layers to 64 layers does bring 100% bit growth per wafer, but the incremental output depends on how the new technology nodes are ramped. Moreover, the incremental output will decrease as we transition to future nodes.
Impact of falling NAND prices on profits
About concerns over the impact of falling NAND prices on supplier profitability, Mehrotra stated that the transition to a newer node would bring significant cost reductions of over 20%. As long as the NAND price decline is less than the cost decline, NAND makers will continue to make profits. If NAND prices fall more than 20%, then profit margins will contract.
There was another concern about whether there is sufficient NAND demand to absorb the growing NAND output. We'll look at Micron's take on this in the next article.