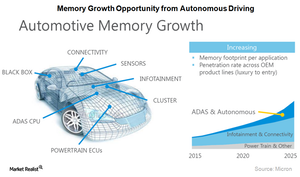 Micron Well-Placed to Capitalize on the Autonomous Vehicles Trend
By Puja Tayal

Updated
Autonomous vehicles trend 
The advent of AI (artificial intelligence) in the data center took center stage in 2017. In the next few years, the industry expects to see AI in cars, surveillance cameras, and any other device at the edge. Micron Technology (MU) looks to tap this growth opportunity in the autonomous vehicles space.
Some market reports state that autonomous driving presents the biggest AI opportunity, and NVIDIA (NVDA) is at the forefront of this trend with its DRIVE PX 2 platform. Intel (INTC) and Qualcomm (QCOM) are playing catchup by making major acquisitions related to autonomous driving technology.
Article continues below advertisement
NVIDIA stated that it would roll out its DRIVE PX 2 platform in some car models in 2018. Google's (GOOG) Waymo stated that it would roll out robotaxis in 2018, which are level three autonomous cars. Although the autonomous driving technology would be rolled out, it is not yet clear whether it would be adopted by the market.
This technology might face certain regulatory and cost challenges, but if it is implemented successfully, it would open a huge opportunity for most technology companies.
Autonomous vehicles opportunity for Micron
Micron expects to be a key beneficiary as autonomous vehicles would be rolled out in multiple stages from level three semi-autonomous cars to level five fully autonomous cars. According to industry estimates, a fully autonomous vehicle would process 40 TB (terabytes) of data daily. This processing power would require about 20 GB to 40 GB (gigabytes) of DRAM (dynamic random access memory) and a 1 TB SSD (solid-state drive) per car.
This outlook presents a significant growth opportunity. However, its effect would trickle down to other non-autonomous cars, as regulators would require all cars to have safety sensors and digital dashboards in place. These requirements would increase memory content in almost all cars.
Other embedded opportunities
Apart from autonomous vehicles, Micron Technology would also see growth in other edge computing devices such as home automation and industrial IoT (Internet of Things). The memory content in these edge devices would vary according to the application. On average, a device would have at least 0.5 GB to 1 GB DRAM and several GBs of NAND.
At J.P. Morgan's 16th Annual Technology Investor Forum, Micron's CFO, Ernie Maddock, stated that the true opportunity is not in this minimum memory content and high volume. He opined that the true growth opportunity would come as these edge devices become more sophisticated with time, as mobile phones have over the years. The memory content per device would increase as consumers demand specialized memory products.