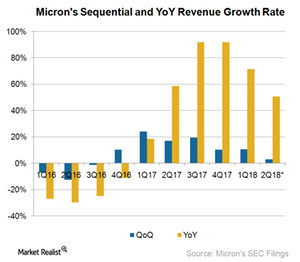 Micron Starts Fiscal 2018 with Strong Revenue Growth
By Puja Tayal

Aug. 18 2020, Updated 6:31 a.m. ET
Micron's revenue growth
Micron Technology's (MU) investors were concerned that the company's earnings super-cycle would come to an end in fiscal 2018 as memory prices begin to fall. However, the company's strong fiscal 1Q18 earnings and guidance eased investors' concerns and assured them that the growth cycle is not yet over.
In fiscal 1Q18, Micron's revenues rose 11.0% sequentially to $6.8 billion, beating the analyst estimate of $6.2 billion by a huge margin. This was the sixth straight double-digit sequential revenue growth for Micron. However, its growth rate has slowed since fiscal 1Q17, showing signs of moderation.
Article continues below advertisement
Revenues by product
In fiscal 1Q18, Micron's DRAM earnings rose faster than its NAND earnings as DRAM (dynamic random access memory) ASP (average selling price) rose whereas its NAND ASP fell. 
DRAM revenues rose 13.0% sequentially to $4.5 billion as DRAM ASP rose 4.0%–6.0% and its volumes rose 7.0%–9.0%. Micron's NAND revenues rose 2.0% sequentially to $1.8 billion as its NAND ASP fell 2.0%–3.0% sequentially and its volumes rose 4.0%–6.0%.
Micron's overall revenues rose 71.4% YoY (year-over-year) as it enjoyed a strong DRAM market environment. This growth comes as the advent of AI (artificial intelligence), IoT (Internet of Things), and cryptocurrency saw its customers NVIDIA (NVDA) and Intel (INTC) witness strong growth in the PC and server space.
Article continues below advertisement
Revenue growth drivers: Demand
Micron's fiscal 1Q18 revenue growth was a combination of strong demand, high prices, and improved product mix. The largest demand growth came from mobile, server, and SSD (solid-state drive) markets where revenues grew in double digits sequentially. 
The increasing adoption of SSDs by various PC OEMs (original equipment manufacturers) saw Micron's SSD revenues increase 61.0% YoY in fiscal 1Q18.
NVIDIA's new Volta GPU (graphics processing unit), which integrates Micron's memory chips, is being widely adopted by data centers and enterprises. These are specialized memory products and command a higher price.
Revenue growth drivers: Supply
On the supply front, Micron ramped up production on its advanced nodes, which helped it increase its sales volumes in fiscal 1Q18. The company achieved mature yields on both 1X DRAM and 64-layer 3D NAND. It also started shipping its first 64-layer NAND consumer SSD.
These metrics show that Micron was able to sell more products at a higher price while reducing costs. This helped the company beat analysts' estimates by a huge margin.
Micron expects the memory demand to increase in 2018, with demand outpacing supply in the DRAM market. However, the NAND market could see supply outpace demand in 2018.
Next, we'll see how these mixed market dynamics could impact Micron's future revenues.