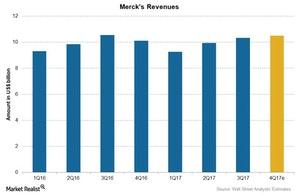 Merck's 4Q17 Estimates: Revenue Growth Expected
By Mike Benson

Updated
Merck's revenue estimates
Analysts estimate that Merck & Co.'s (MRK) revenues will increase 3.7% to $10.5 billion in 4Q17 compared to $10.1 billion in 4Q16. Revenues for 4Q17 are expected to see positive growth in operating revenues and a favorable impact of foreign exchange.
The above chart compares Merck's reported revenues since 1Q16 and analysts' estimates for 4Q17. Since its products are marketed in more than 100 countries and 55% of its total revenues are from sales outside the US markets, the company is largely exposed to currency risk.
Article continues below advertisement
Pharmaceutical segment
The Pharmaceutical segment contributes more than 88% of Merck's total revenues. The segment includes revenues from oncology products, hospital acute care products, diabetes products, women's health products, primary care products, and vaccines.
For 4Q17, revenues for the Pharmaceutical segment are expected to decrease from 4Q16. The decline in revenues could be driven by lower sales of Gardasil, Vytorin, Zetia, Januvia, and Janumet, substantially offset by growth in sales of Keytruda, Zepatier, Proquad/Varivax, Pneumovax 23, and Zostavax.
Animal Health segment
The Animal Health segment includes drugs and vaccines for companion animals as well as farm animals. The segment contributes 10% of Merck's total revenues and is expected to report growth in 4Q17. Growth is expected to be driven by strong sales of companion animal products, including Bravecto, and the inclusion of products acquired from Vallée.
The iShares US Healthcare ETF (IYH) holds 4.7% of its total investments in Merck & Co. (MRK), 2.9% in Bristol-Myers Squibb (BMY), 6.4% in Pfizer (PFE), and 10.7% in Johnson & Johnson (JNJ).