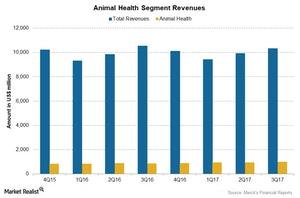 Merck & Co.'s Animal Health Business in 3Q17
By Mike Benson

Jan. 22 2018, Updated 9:01 a.m. ET
Animal Health business
Merck & Co.'s (MRK) Animal Health segment includes drugs and vaccines for animals. The segment's total revenues increased ~16% to $1 billion in 3Q17 compared to $865 million in 3Q16. Growth includes a 14% increase in operating revenues and a 2% favorable impact of foreign exchange.
The above chart compares revenues for the Animal Health business for the last eight quarters.
Article continues below advertisement
Revenues
Revenues of $1 billion for the Animal Health segment in 3Q17 were driven by an increase in sales for its Bravecto companion animal products, an increase in sales of vaccines, an increase in sales of ruminants, sales for swine and poultry products, and the Vallee acquisition.
Acquisition of Vallee
Merck acquired Vallee, a Brazil-based company, in March 2017. The acquisition added an extensive product portfolio, including anti-infectives, parasiticides, and vaccines, and contributed to growth during the quarter.
Animal Health portfolio
The Animal Health segment includes companion animal products and food animal products. The companion animal products portfolio consists of products that provide a healthy life for pets and include Bravecto, Activyl, Panacur, Nobivac Canine Flu Bivalent vaccines, veterinary insulin Vetsulin, and ear and eye products. The Bravecto line of products includes chewable tablets used to kill fleas and ticks for up to 12 weeks in dogs and cats.
The food animal products include swine, poultry, and aquaculture products. Swine products, which improve the health of pigs, include Respig, Zuprevo, and Regumate. Aquaculture products, which help maximize fish growth and survival, include Aquaflor, Slice, and Aquavac.
The SPDR S&P Pharmaceuticals (XPH) holds 4.3% of its total investments in Merck (MRK), 4.3% in Johnson & Johnson (JNJ), 4.4% in Allergan (AGN), and 5% in Mylan (MYL).