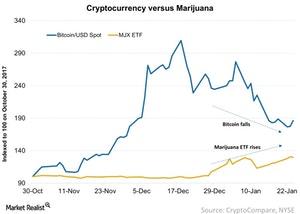 Why the Marijuana Wave May Not Be the Same as Cryptocurrency
By Adam Jones

Jan. 26 2018, Updated 4:35 p.m. ET
Double investment wave
In 2018, two investment waves set the market ablaze—marijuana and cryptocurrencies. The investor sentiment on cryptocurrencies peaked in the first two weeks of January 2018 following the launch of bitcoin futures in the US in December 2017.
However, the cryptocurrency wave has been on a downward slide since then. On the other hand, the marijuana wave has held up so far, as we can see in the chart below.
Article continues below advertisement
The marijuana wave
Recreational marijuana was legalized in California on January 1, 2018, and there is some expectation of recreational marijuana legalization coming to Canada in 2018. These trends have attracted investors toward marijuana stocks and ETFs (MJX). These shifts may come as an opportunity for companies such as Canopy Growth (WEED)(BUDZ), Aurora Cannabis (ACB)(ACBFF), and MedReleaf (LEAF).
Vermont became the ninth state in the US to legalize recreational marijuana. For more information, please read Vermont Legalizes Recreational Marijuana on January 22, 2018.
Illicit elements
Cryptocurrency and marijuana each have their share of illicit elements that have deterred some investors from testing the waters. Cryptocurrency, for example, has attracted illegal activities such as money laundering, funding criminal activities, and market manipulation.
On the back of these concerns, South Korea moved to ban noncitizens from trading cryptocurrency in the country. South Korea also plans to ban minors from trading cryptocurrencies after Prime Minister Lee Nak-Yeon expressed concern that these minors could be led to criminal activities.
Article continues below advertisement
Regulators around the world have grown uncomfortable with the potential of a parallel currency that may bypass banks and other regulated means of transactions. These regulators have expressed concern that this trend could hurt tax collection efforts and the economy at large. In early January 2018, tax agencies in India issued notices to virtual currency investors to disclose their investments and pay taxes on their gains.
Series overview
In this series, we'll discuss how the marijuana wave differs from the cryptocurrency wave. Next, we'll continue our discussion about the illegal elements of the marijuana industry.