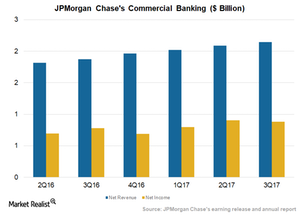 Major Drivers That Could Impact Bankers in 2018
By Robert Karr

Jan. 4 2018, Updated 9:04 a.m. ET
Drivers and credit offtake
Banks (IYF) have enjoyed strong credit growth amid near-zero interest rates as leveraging and carry trade have been profitable. However, corporations didn't go back to pre-2007 leverage levels. JPMorgan (JPM) and Bank of America (BAC) have successfully expanded their books. However, as rates have risen and tax rates were cut, leverage is expected to see less growth. If banks target global exposure and more exposure to manufacturing in the United States, they could see reasonable growth in the upcoming quarters.
Article continues below advertisement
Interest rates
The Fed is targeting at least three rate hikes in 2018 to bring its funds rate to 2.25% from the current 1.5%. That should help banks maintain or improve their net interest margins. Any deviation could result in a marginal squeeze of existing margins.
Investment banking
Across-the-board services and equity and debt underwriting have helped banks command higher investment banking revenues in recent years. Goldman Sachs (GS) and Morgan Stanley (MS) have a sizable portion of revenues in this space. Liquidity and expansion plans could possibly drive revenue in this space.
Article continues below advertisement
Volatility in equity, debt markets
Trading activity was cut in half in the second half of 2017 due to lower volatility and the holding of securities by major institutional players. The trend could change in the first half of 2018 since a major part of the good news, including a tax rate cut and a manufacturing push, has already been priced into equities. Volatility in either direction is important in order for banks' trading divisions to have higher revenues amid sales and trading.
Global reach
Further penetration in Europe, Asia, and Africa will be the key for US bankers to seek loan book expansion outside the United States. A weakening dollar due to a fiscal imbalance led by lower tax rates could allow growth by export banking, credit cards, and other services.