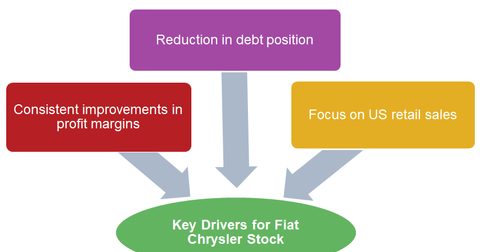 What Made Fiat Chrysler the Top Performer in Auto Stocks in 2017?
By Jitendra Parashar

Updated
Fiat Chrysler stock
In 2017, Fiat Chrysler Automobiles (FCAU) turned out to be the auto industry's top performer on Wall Street. Its stock rose ~96.4% last year, beating other auto companies (IYK) and the broader market by a wide margin.
In comparison, the benchmark S&P 500 Index (SPY) (SPX-INDEX) yielded a return of 19.4%. Similarly, FCAU's direct competitors General Motors (GM), Ford Motor Company (F), and Toyota Motor (TM) rose 17.7%, 3.0%, and 8.5%, respectively, in 2017.
Article continues below advertisement
Key positive factors for FCAU
FCAU has managed to reduce its debt burden in the last few quarters in line with its 2018 end debt reduction targets.
The company's management revised its 2018 business plan at the beginning of 2016. It had initially announced this business plan in May 2014. According to the revised plan, Fiat Chrysler's management expects its net industrial debt to be in the range of 4 billion–5 billion euros (or $4.8 billion–$6 billion) by the end of 2018. At the same time, the company expects its 2018 net profit to be in the range of 4.7 billion–5.5 billion euros (or $5.7 billion–$6.6 billion).
The company's continued progress toward these 2018 targets could be one of the primary reasons why its stock rallied to become the auto industry's top gainer in 2017.
Focus on improving profit margins
Fiat Chrysler's profit margins have been improving consistently for the last seven consecutive quarters. In 2Q17, the company's most recently reported quarter, its adjusted EBIT (earnings before interest and tax) margin expanded to 6.7%, which was far better than its EBIT margin of 5.6% in 3Q16.
Continued improvement in Fiat Chrysler's profitability and debt position could help it to keep investors' optimism alive in 2018.
Continue to the next article, where we'll take a look at the second-best-performing auto stock of 2017 on our list.