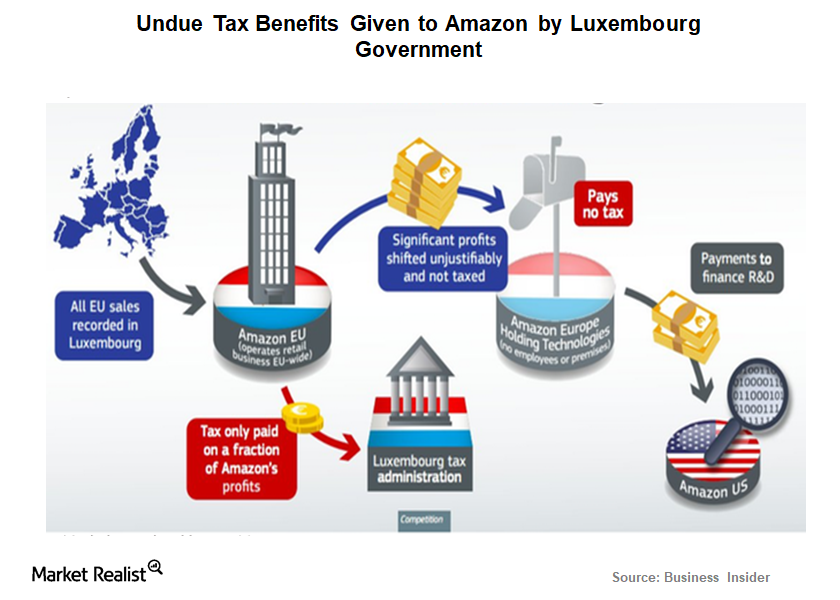 Why Luxembourg Challenged EU Demand to Recoup Taxes from Amazon
By Sophia Nicholson

Jan. 19 2018, Updated 10:35 a.m. ET
Luxembourg challenging EU's decision on Amazon
According to Reuters, Luxembourg is questioning the European Commission's decision that e-commerce giant Amazon (AMZN) was given special tax treatment from the country. According to the European Commission, Amazon's regional headquarters in Luxembourg could pay fewer taxes on a majority of its European profits between 2006 and 2014.
The European Union is pushing Luxembourg to recover an unpaid tax bill of about $300.0 million from Amazon.
Article continues below advertisement
EU charging Amazon over back taxes
According to EU regulators, Luxembourg's government gave Amazon tax benefits between 2006 and 2014 without providing any valid justification. "Luxembourg gave illegal tax benefits to Amazon," noted Margrethe Vestager, commissioner for the EU, in a statement. "As a result, almost three-quarters of Amazon's profits were not taxed…. Member States cannot give selective tax benefits to multinational groups that are not available to others."
In June 2014, Amazon started working within a different structure that was outside the European Commission's regulations, according to CNBC.
EU regulators stated that Amazon didn't meet its tax liability by shifting its European profits from one subsidiary (Amazon EU), which is subject to tax in Luxembourg, to Amazon Europe Holding Technologies, which is another subsidiary of the company. Amazon Europe Holding Technologies is exempted from paying taxes, and it doesn't have offices, employees, or any business activities.
Luxembourg is due to recoup the tax amount from Amazon. Luxembourg authorities and Amazon are expected to analyze the EU's decision and take action.
The EU's strict tax regime
Amazon is not the only company facing action from the EU. McDonald's (MCD) is also struggling with the EU in a tax deal in Luxembourg. In August 2016, Apple (AAPL) was ordered by the EU to pay $15.0 billion in back taxes.
In May 2016, Facebook (FB) was fined $122.0 million for what the European Commission called "providing incorrect or misleading information" during its WhatsApp acquisition in 2014. Tech giant Microsoft's (MSFT) overseas profits through its subsidiaries are also sent to Ireland and Luxembourg.