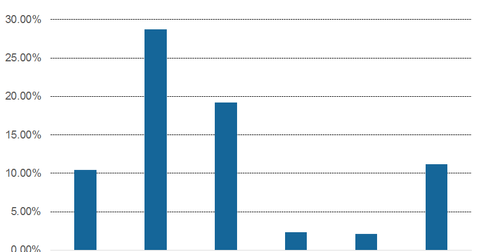 A Look at Apple's Revenue Growth in Fiscal 2018 and Beyond
By Adam Rogers

Updated
Analysts expect Apple's revenue to rise 19% YoY in fiscal 2018
Analysts expect Apple's (AAPL) revenues to rise 19.2% YoY (year-over-year) to $273.3 billion in fiscal 2018 compared to $229.2 billion in fiscal 2017. Its revenue is also expected to rise in fiscal 2019 by 2.3% YoY to $279.7 billion.
Apple's non-GAAP (generally accepted accounting principles) EPS (earnings per share) could rise 24.4% YoY in 2018 to $11.46 and 6.8% YoY to $12.24 in fiscal 2018. Analysts expect Apple's revenue to rise 10.4% in fiscal 1Q18 to $86.5 billion, with EPS expected to rise 12.5% to $3.78. In the quarter ending March 2018, or fiscal 2Q18, Apple's revenue is expected to rise 28.7% YoY to $68.1 billion, while EPS is expected to rise 38% to $2.90.
Analysts expect Apple's revenue to rise at a CAGR (compound annual growth rate) of 11.2% over the next five years compared to a historical growth of 10% in the last five years.
Article continues below advertisement
Profit margins
Analysts expect Apple's net margin to be 21% with an operating margin of 27.4% in fiscal 2018. Apple recorded a net margin of 21.1% with an operating margin of 26.8% in fiscal 2017.
Profit margins, however, are expected to fall marginally flat in 2018 and 2019, despite Apple's rise in revenue. While analysts expect revenues to rise 2.3% in 2019, Apple's net margin is expected to rise to 20.9% with an operating margin of 27.2%.
Apple's operating margin and net margin are expected to be 20.5% and 27.2%, respectively, in 2020, compared with its revenue growth of 2% YoY.