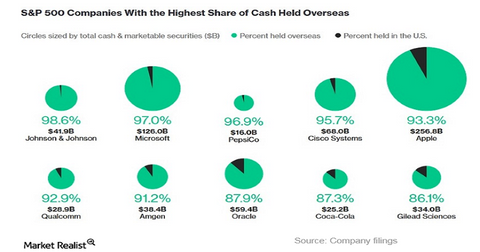 A Look at Apple's Cash Repatriation Options
By Ruchi Gupta

Updated
Repatriation tax set to a range of 8.0%–15.5%
Apple (AAPL) is moving to capitalize on the reduced tax rate in the US (SPY) to repatriate the billions of dollars in foreign profits it holds overseas. The US government, keen to encourage American multinationals to repatriate their foreign earnings and invest more domestically, overhauled its tax code in December.
The tax code overhaul lowered the corporate tax rate on profits generated domestically to 21.0% from 35.0%. The tax rate on profits generated abroad by American companies was cut to a range of 8.0%–15.5% from the previous flat rate of 35.0%.
Article continues below advertisement
Foreign profits held in cash taxed at higher rate
The 8.0% tax rate applies to reinvested foreign profits, while the 15.5% tax rate applies to foreign profits held in the form of cash.
Apple doesn't disclose the exact amount it has accumulated in foreign profits. However, its offshore cash holdings are estimated to exceed $252.0 billion—roughly 93.3% of its total cash holdings. It's unclear what portion of Apple's foreign cash is in the form of cash and what portion is in the form of investments.
Apple preparing $38 billion in repatriation tax
Without disclosing whether it would repatriate its entire foreign cash holdings, Apple stated that it plans to release $38.0 billion to the US to cover its repatriation tax payments. This move would offer savings to Apple, as its repatriation tax obligation under the previous tax framework would have been ~$78.6 billion.
Microsoft (MSFT), Cisco Systems, Qualcomm (QCOM), and PepsiCo (PEP) are among the other American multinationals with more than 90.0% of their cash holdings held in foreign accounts.