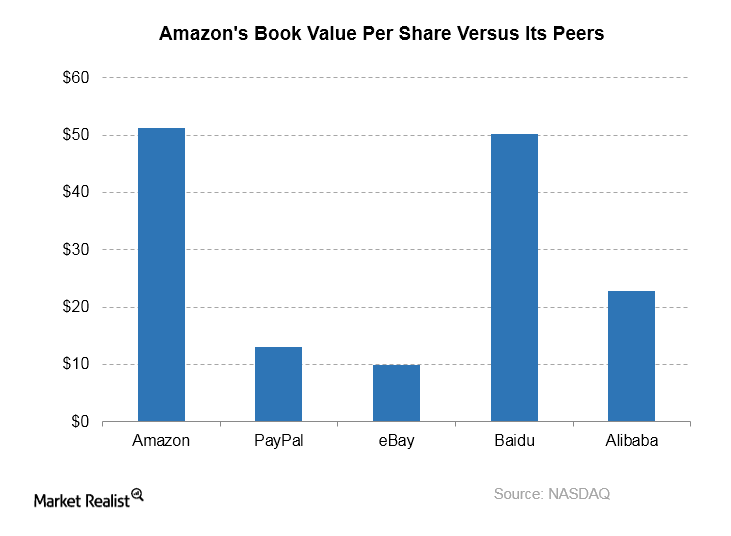 A Look at Amazon Stock
By Neha Gupta

Dec. 4 2020, Updated 10:53 a.m. ET
Inside Amazon's price metrics
Amazon's (AMZN) 2017 book value per share of $51.30 compares to the expected book value per share of $52.50 for 2018. Amazon (AMZN) shares are trading at a price-to-book value of 25.3x.
In comparison, peer companies PayPal (PYPL), eBay (EBAY), Baidu (BIDU), and Alibaba (BABA) have book values per share of $13.10, $9.90, $50.20, and $22.80, respectively.
The company's 2017 price-to-sales ratio of 3.9x compares with the estimated 2018 price-to-sales ratio of 3.5x.
Article continues below advertisement
What's Amazon's economic value?
Amazon boasts a total economic or EV (enterprise value) of $624.2 billion. How does Amazon's EV compare with its adjusted EBITDA (earnings before interest, tax, depreciation, and amortization) for the last 12 months? It has an adjusted trailing 12-month EV-to-EBITDA of 46.2x. Its EV-to-EBITDA ratio for the current year is projected at 34.1x. Its EBITDA margin for 2017 is 8%.
Looking more deeply into Amazon's EV ratios reveals an EV-to-sales ratio for the trailing 12 months of 3.9x. The EV-to-projected sales ratio for next year is 2.7x.
The company's trailing 12-month EV-to-cash flow ratio was 37.9x, and its trailing 12-month EV-to-free-cash-flow ratio was 80.9x.
EBIT on interest coverage ratio
Can Amazon easily pay interest on its outstanding debt? The answer lies in examining the company's EBIT (earnings before interest and tax) on interest ratio, also called interest coverage ratio, which is 22.6x. As for the company's debt on economic value, Amazon has a debt-to-enterprise value of 4%.
Article continues below advertisement
A look at Amazon's EBITDA numbers
Amazon's EBITDA fell 33% to $13.5 billion last year. Analysts are expecting the company to post EBITDA of $18.3 billion, implying a potential fall of 27%. Amazon's shares are changing hands at a price-to-EBITDA ratio of 47.3x.
Amazon's credit rating
Moody's rating on Amazon's debt is WR (withdrawn rating). The company also has an S&P debt rating and debt outlook of AA- and stable, respectively.