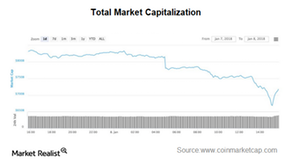 What Led to the Major Fall in the Price of Cryptocurrencies?
By Meera Shawn

Updated
CoinMarketCap: Data provider
Bitcoin and other major cryptocurrencies saw their prices fall on Monday, January 8, 2018. Bitcoin fell almost 3.5% in 24 hours. However, the price revived after touching a low of $14,208. As of 7:00 AM EST on January 9, 2018, Bitcoin was trading at $14,988. Ripple, Bitcoin Cash, Cardano, NEM, Litecoin, and Stellar fell 10.3%, 2.9%, 9.9%, 4.9%, 5.4%, and 5.5%, respectively, on Monday.
The primary reason behind the fall in Bitcoin (ARKW) (ARKK) and other significant cryptocurrencies on Monday was a decision made by CoinMarketCap, the most prominent source for cryptocurrency market data. It announced in a tweet, "This morning we excluded some Korean exchanges in price calculations due to the extreme divergence in prices from the rest of the world and limited arbitrage opportunity. We are working on better tools to provide users with the averages that are most relevant to them."
Article continues below advertisement
Ripple fell 30%
Ripple witnessed a decline of almost 30%, but it rebounded and was trading at $2.35 as of 7:00 AM EST, on January 9, 2018. Ripple has been in the market for around five years, and its distributed-ledger technology, which moves payments between banks (BAC) (XLF) (QQQ), could make it a friend of regulators.
Bitcoin, on the other hand, has become excessively volatile after the introduction of Bitcoin futures. Its price has declined 20% since its mid-December high.
The only cryptocurrency that escaped the negative impact of CoinMarketCap was Ethereum. Let's look at Ethereum's price movement in the next part.