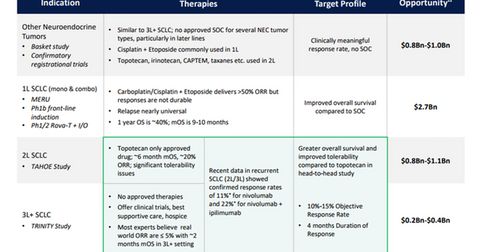 AbbVie's Rova-T: Can Label Expansion Make It a Blockbuster Drug?
By Margaret Patrick

Updated
Label expansion
Besides the third line plus SCLC (small cell lung cancer) indication, AbbVie (ABBV) is also focused on expanding Rova-T's label in the second line SCLC segment by 2020. The company will be launching its Phase 3 TAHOE study to compare Rova-T with topotecan, the only therapy in second line SCLC approved by the FDA (U.S. Food & Drug Administration). These efforts are targeted at increasing acceptance of DLL3 (delta-like protein 3) as a major target for identifying solid tumor cells. AbbVie also aims to establish the importance of targeting tumor-initiating cells in treating solid tumors.
Article continues below advertisement
Beyond 2020, the company plans to launch the MERU study, which will enable Rova-T to expand its label in the first line SCLC maintenance indication. It also plans to launch Rova-T in relapsed/refractory neuroendocrine indications from the BASKET trial. It already released promising early data from the eight-arm Phase 1 BASKET study in early 2017.
Beyond 2021, AbbVie aims to redefine the standard of care regimen in the first line SCLC indication as well as in other neuroendocrine tumors. It aims to launch Rova-T as a monotherapy or in combination with chemotherapy in first line SCLC induction indication. The combination of Rova-T and immuno-oncology agents is also being studied in the first line SCLC induction indication.
AbbVie accounts for 0.07% of the WisdomTree US Dividend Growth ETF (DGRW).
The above diagram shows Rova-T's peak sales opportunity of $5 billion distributed across various indications. Rova-T is thus expected to be a strong asset in AbbVie's portfolio, enabling the company to pose tough competition to other oncology players such as Pfizer (PFE), Merck & Co. (MRK), and Bristol-Myers Squibb (BMY).
Rova-T BASKET trial
AbbVie aims to expand Rova-T's label in other neuroendocrine tumors that express DLL3. This may prove to be a significant opportunity since there are very few approved treatment options available for later lines of therapy in these tumors. Based on preliminary data from the ongoing Phase 1 BASKET study, it has been seen that Rova-T is well tolerated in the various disease populations. Additionally, the safety profile was seen to be consistent with that witnessed for Rova-T in previous studies. The trial has also demonstrated a reduction in tumor burden as well as confirmed clinical response. AbbVie anticipates additional data from this trial in 2018.