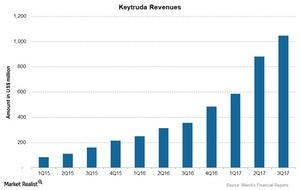 Keytruda: Merck & Co.'s Immuno-Oncology Blockbuster Drug
By Mike Benson

Jan. 19 2018, Updated 7:34 a.m. ET
Keytruda
Merck & Co.'s (MRK) immuno-oncology portfolio includes one of its key products—Keytruda—which was launched in 2014 and is approved for various indications that we'll list below.
The above chart compares Keytruda's sales over the last 11 quarters.
Article continues below advertisement
Keytruda's revenues
Keytruda sales increased 194% to ~$1.1 billion in 3Q17 compared to $356 million in 3Q16, driven by an increase of ~192% in revenues at constant exchange rates and a 2% favorable impact of foreign exchange.
Keytruda's uses
Keytruda is approved for the treatment of various forms of tumors for the following diseases:
head and neck squamous cell cancer
classical Hodgkin lymphoma
microsatellite instability-high cancer
advanced non-small cell lung cancer (or NSCLC)
advanced melanoma
advanced urothelial bladder cancer
Keytruda is also approved for patients with PD-L1 positive gastroesophageal junction adenocarcinoma, a type of stomach cancer.
Article continues below advertisement
Recent developments for Keytruda
Keytruda is a drug being evaluated for more than 30 tumor types as a monotherapy as well as a combination drug.
On January 16, 2018, Merck announced data from its KEYNOTE-189 study, a double-blind, randomized, Phase 3 study evaluating Keytruda in combination with other drugs, including pemetrexed, and cisplatin or carboplatin, as first-line treatments for metastatic NSCLC. It met its primary endpoints of overall survival as well as progression-free survival.
On January 8, 2018, Merck and the European Organisation for Research and Treatment of Cancer announced data from its EORTC1325/KEYNOTE-054 study, a Phase 3 study evaluating Keytruda as a monotherapy for the treatment of surgically resected high-risk melanoma. It met its primary endpoint of recurrence-free survival.
The Health Care Select Sector SPDR ETF (XLV) holds 4.8% of its total investments in Merck (MRK), 3.1% in Bristol-Myers Squibb (BMY), 3.1% in Gilead Sciences (GILD), and 6.6% in Pfizer (PFE).