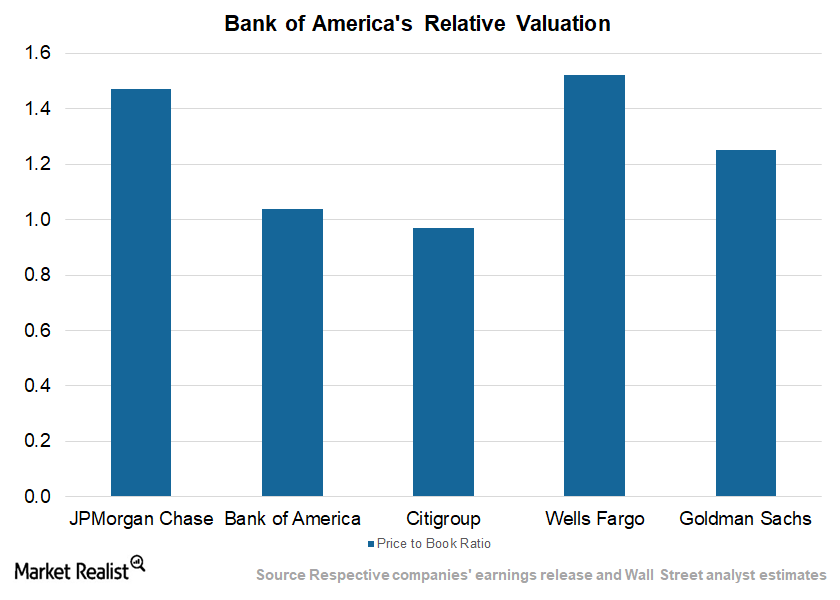 Why JPMorgan and Wells Fargo Are Trading at High Multiples
High price-to-book multiples
Investors tend to value banks (XLF) on the basis of a price-to-book or price-to-adjusted book basis. In spite of a rather weak performance, Wells Fargo (WFC) commands the highest premium due to its strong franchise, mortgage concentration, and high net interest margins. The bank is currently trading at a multiple of 1.65x with an EPS (earnings per share) growth estimate of 10.4%.
JPMorgan (JPM) has the second-best valuation among major bankers. The stock is currently trading at a price-to-book multiple of 1.60x. It was impacted the least by the 2007 financial crisis due to its strong risk management policies. It has strengthened its position in investment banking, core banking, credit cards, and trading activity. It generated a return on equity of 17% in 3Q17.
Article continues below advertisement
Rebounds from current levels
Bank of America's (BAC) valuation has rebounded substantially. It's now trading at 1.24x compared to a below-book value in 2016. The rebound has been largely due to its rising Tier 1 ratio, passing of stress tests, and higher payouts amid improving operating performance. It seems to have the ability to garner a higher share of trading activity in the industry.
Citigroup (C) is the only major banker trading below book value at 0.95x. It has the potential of seeing revaluation as the quality of its overall balance sheet improves with the winding down of legacy assets and a focus on core banking operations inside and outside the United States. The bank has seen higher net interest margins, improved efficiency ratios, and a rise in trading activity in 2017. A continuation of this trend should help it command higher valuations.