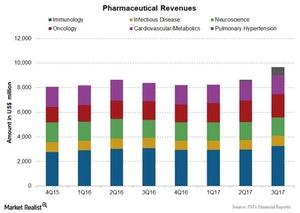 Johnson & Johnson's Pharmaceutical Segment: 4Q17 Estimates
By Mike Benson

Updated
Pharmaceutical segment
Johnson & Johnson's (JNJ) Pharmaceutical segment includes immunology products, cardiovascular and metabolic products, infectious disease products, oncology products, neuroscience products, and pulmonary hypertension products.
The above chart compares revenues for the Pharmaceutical segment over the last eight quarters.
Article continues below advertisement
Immunology franchise
The immunology franchise includes the drugs Remicade, Stelara, and Simponi/Simponi Aria. For 4Q17, revenues for the franchise are expected to increase due to the strong performance of Stelara in both US and international markets, while Remicade and Simponi/Simponi Aria are expected to report lower sales due to competition and substantially offset growth.
Cardiovascular and metabolics franchise
The cardiovascular and metabolics franchise includes the drugs Invokana, Procrit, and Xarelto. Xarelto is expected to report growth following strong demand in the US markets, while Invokana and Procrit are expected to offset that growth.
Article continues below advertisement
Infectious diseases franchise
The infectious diseases franchise includes Hepatitis C products and HIV (human immunodeficiency virus) products. For 4Q17, the franchise is expected to decline due to lower sales of HIV product Prezcobix and Hepatitis C products Olysio, Invico, and Sovraid, partially offset by the strong performance of Edurant.
Oncology franchise
The oncology franchise includes the drugs Imbruvica, Zytiga, and Darzalex. For 4Q17, increased sales of Imbruvica and Darzalex are expected to drive growth in revenues, while lower sales of Zytiga are expected to partially offset that growth.
Article continues below advertisement
Neuroscience franchise
The neuroscience franchise includes the drugs Concerta, Xeplion, and Invega Sustenna. The franchise's revenues are expected to report growth in 4Q17 due to increased sales of Invega Sustenna and Concerta, partially offset by other products.
Pulmonary hypertension
The pulmonary hypertension franchise was added to Johnson & Johnson's portfolio as a result of the Actelion acquisition completed in June 2017.
The Vanguard Health Care ETF (VHT) holds 10.2% of its total investments in Johnson & Johnson (JNJ), 5.9% in Pfizer (PFE), 4.2% in AbbVie (ABBV), and 2.7% in Bristol-Myers Squibb (BMY).