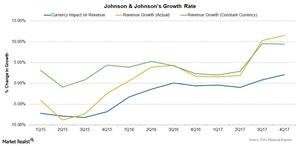 Johnson & Johnson's Growth Rate for 4Q17
By Mike Benson

Updated
Johnson & Johnson's growth rate
Johnson & Johnson (JNJ) reported 11.5% growth in its revenues to ~$20.2 billion during 4Q17, compared to ~$18.1 billion during 4Q16. This revenue growth includes operational growth of 9.4% and a 2.1% positive impact of foreign exchange during 4Q17.
The chart above shows the changes in growth rate and the impact of foreign exchange on JNJ's total revenues since 1Q16. In 2017, Johnson & Johnson reported 6.3% growth in revenues to ~$76.5 billion, compared to ~$71.9 billion during 2016.
Article continues below advertisement
Foreign exchange and revenues
Johnson & Johnson (JNJ) commercializes its products in more than 200 countries and operates over 134 manufacturing units and eight research centers globally. The international markets contribute more than 48.0% of total revenues in 4Q17.
JNJ is mostly exposed to foreign exchange risk, and any changes in foreign exchange rates impact the company's revenues. During 4Q17, foreign exchange had an ~2.1% favorable impact on its overall revenues, while foreign exchange had an ~0.3% favorable impact on its fiscal 2017 revenues.
Revenue drivers
Johnson & Johnson (JNJ) restructured its business over the last few years into three business segments: Pharmaceuticals, Consumer, and Medical Devices. In 4Q17, Johnson & Johnson reported growth in revenues across each of the business segments.
The company's growth during 4Q17 was driven by the strong performance in the Pharmaceuticals segment. These products include Darzalex, Edurant, Imbruvica, Invega Sustenna, Prezista/Prezcobix, and Risperdal Consta. These products also include Simponi/Simponi Aria, Stelara, Xarelto, Zytiga, and pulmonary hypertension products.
The company also saw growth in beauty products, over-the-counter products, and wound care products from the Consumer segment. In its Medical Devices segment, JNJ saw growth from cardiovascular products; hips, knees, and trauma products; general and advanced surgery products; and contact lenses.
The iShares Global 100 ETF (IOO) holds 12.2% of its total investments in healthcare companies. IOO holds 3.0% in Johnson & Johnson (JNJ), 1.8% in Novartis AG (NVS), 1.7% in Pfizer (PFE), and 1.3% in Merck & Co. (MRK).