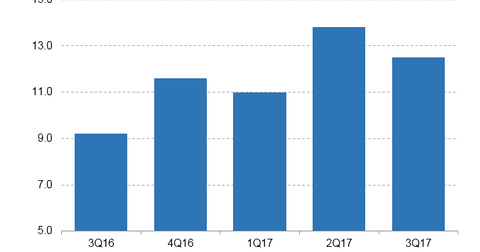 JD and Walmart Turn to Bitcoin Technology for Food Safety
By Ruchi Gupta

Updated
Blockchain to help trace food items
JD.com (JD), Walmart (WMT), IBM (IBM), and Tsinghua University have formed an alliance to leverage blockchain, the technology that underpins cryptocurrencies such as bitcoin, to help enhance food safety.
The partners hope that their blockchain alliance could produce solutions that could help replace paper-based and error-prone processes in use today with better food tracking processes that bring more transparency and accountability in the food supply chain. The solutions the partners develop are expected to roll out first in China (MCHI).
China has been plagued by food safety scandals in recent years, raising the need for more transparency in the food supply chain. In 2016, Reuters reported that Chinese food safety regulators unearthed more than 500,000 food safety violations in China in a span of nine months.
Article continues below advertisement
Creating food safety ecosystem in China
The alliance intends to work closely with food supply chain providers and regulators to develop solutions and standards that they hope would enable a broad-based food safety ecosystem in China.
The blockchain alliance intends to base its work on IBM's BlockChain Platform, while Tsinghua University will provide technical advice. Retailers Walmart and JD.com have separately conducted food safety research, and they are expected to contribute their expertise toward developing better food safety measures. The retailers plan to help with the rollout of the blockchain-based food safety solutions developed by the alliance.
Supply chain efficiency
For food suppliers and retailers such as Walmart and JD.com, blockchain is also promising to bring more efficiency into their operations. In a pilot program in the US (SPY), leveraging blockchain to trace food items was able to reduce the time it took Walmart to trace mango packages from the farm to the store in just two seconds as opposed to the normal days or weeks such a process would typically take.
With such efficiency, food suppliers could cut their operating expenses and improve profitability. JD's total operating expenses rose 37.7% year-over-year to roughly $12.5 billion in 3Q17.