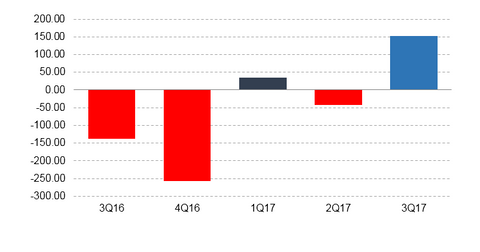 Why JD Finance May Have Sought Stake in First Capital Securities
By Ruchi Gupta

Jan. 22 2018, Updated 7:36 a.m. ET
A former JPMorgan Chase partner
On September 15, 2017, Reuters reported that JD Finance considered investing in First Capital Securities for a stake in the brokerage company. First Capital denied the report on September 17. JD Finance is the financial arm of e-commerce company JD.com (JD), serving the same function as Ant Financial does with Alibaba (BABA).
First Capital Securities is a China-based (MCHI) securities brokerage company that was once a joint venture partner of US-based (SPY) lender JPMorgan Chase (JPM).
Article continues below advertisement
JD Finance lined up $1.5 billion investment
The Reuters report stated that JD Finance was lining up a $1.5 billion investment to take a 24.0% stake in First Capital Securities. JD Finance was said to be in talks with two leading First Capital Securities investors to purchase their stakes in the brokerage company.
In its statement denying speculations of JD Finance investment, First Capital Securities stated, "Currently there is no situation of JD Finance purchasing 24 percent of shares in First Capital as reported by media."
Tapping into First Capital Securities' network
Why might JD Finance be interested in investing in First Capital Securities for a stake in the brokerage company? As a prominent Chinese brokerage, First Capital Securities operates a customer network that JD Finance could utilize to expand into credit and investment services.
When JD Finance was separated from JD.com in 2017, one idea behind the move was to allow the business to expand its services menu to attract more rapid growth.
JD spun off JD Finance and subsequently entered into an agreement that allows it to collect 40.0% of the profits that JD Finance generates. JD posted a net profit of 1.0 billion yuan (~$152.0 million) in 3Q17, a record for the third quarter.