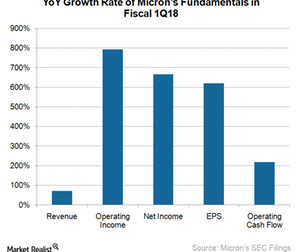 Investors and Analysts Mixed about Micron's 2018 Performance
By Puja Tayal

Jan. 17 2018, Updated 5:37 p.m. ET
Micron's record earnings in 2017
Memory chip suppliers took the market by storm, becoming the best performers in the chip industry (SMH) in 2017. For the first time in more than three decades, Intel (INTC) lost its top position as memory giant Samsung (SSNLF) overtook it to become the largest semiconductor company by revenues. SK Hynix and Micron Technology (MU) also made it to the top five.
Among the US-based semiconductor companies, Micron reported the highest revenues and stock price growth in 2017. Micron stock rose 87.6% in 2017 and more than 350.0% in 18 months as the company enjoyed a continuous increase in memory prices.
Micron reported record earnings growth in 2017. On a YoY (year-over-year) basis, Micron's revenues rose 70.0%, its earnings increased sevenfold, and its free cash flow rose more than tenfold in fiscal 1Q18.[1. fiscal 1Q18 ended November 30, 2017]
Not only did Micron report strong earnings, but it also outperformed analysts' expectations by an increasingly large margin. Every time earnings beat expectations, Micron stock surged significantly.
Article continues below advertisement
Industry cyclicality poses risk
Despite exceeding financial performance, Micron stock is fundamentally undervalued compared to the industry. Micron is a cyclical stock, and history shows that every memory market upturn is followed by a downturn.
After a period of strong growth in memory chip prices, prices plunge as the supply increases, creating a supply-demand imbalance. This downturn sends Micron stock down, as it is a pure-play memory chipmaker and depends solely on the memory market environment for growth.
In the most recent downturn in late 2015 and early 2016, Micron pushed into the red and reported losses. Investors have been cautious in taking a position in Micron, as they are unsure when the up cycle would end. Chip prices and Micron's stock price could react negatively to this trend.
Analysts optimistic about 2018
Credit Suisse analyst John Pitzer stated that investors are focusing too much on cyclicality. He added that investors may not see the growth opportunities coming from structural improvements in various applications and compute architecture, which is more memory-intensive.
Other analysts and industry experts stated that they do not see any signs of another downturn in the memory market in 2018. Several large suppliers, which control more than 90% of the memory market, are maintaining supply discipline to prevent another oversupply situation and to protect their margins. This discipline was not evident in earlier cycles.
In this series, we'll look at the key aspects of Micron's fiscal 1Q18 earnings and understand its growth potential in 2018.