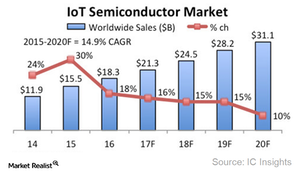 When Internet of Things Could Reflect in Semiconductor Earnings
By Puja Tayal

Jan. 5 2018, Updated 10:33 a.m. ET
IoT and the semiconductor industry
The semiconductor industry is transitioning to AI (artificial intelligence) and IoT (Internet of Things). We saw how the transition to AI could boost growth. Even though AI chips need manufacturing innovation, semiconductor companies and foundries are still transitioning to a smaller node because IoT needs chips that consume low power and deliver desired computing power.
Let's see how IoT could boost growth for the semiconductor industry.
Article continues below advertisement
IoT outlook
At the SEMI Industry Strategy Symposium 2017, Global Foundries' chief technology officer Gary Patton talked about the emerging technologies in the semiconductor space. He forecast the semiconductor IoT content to grow from $15 billion in 2016 to $62 billion in 2025.
A McKinsey report has forecast that the number of IoT devices could increase from 7–10 billion at the end of 2015 to 26–30 billion by 2020, growing at a CAGR (compound annual growth rate) of 15%–20%.
IC Insights forecasts IoT semiconductor sales to grow at a CAGR of 14.9% from 2015 to 2020, with the biggest growth coming from connected vehicles at 32.9%, followed by industrial IoT at 24.1% and connected homes at 21.3%. The slowest growth could be seen in smart cities at 8.9% and wearables at 17.1%.
Article continues below advertisement
Challenges in IoT
The slowing adoption of IoT saw Intel (INTC) discontinue some of its chips for wearables. Even Broadcom (AVGO) sold its wireless IoT business to Cypress Semiconductors (CY).
Although IoT is a key growth driver for the semiconductor industry, the adoption of wearables and smart cities has been slow in 2016 and 2017 since the market is highly fragmented and has relatively low ROI (return on investment). What the IoT industry seems to lack is the availability of consistent standards that could enable interoperability and security of data generated and collected.
Industry players are working out these challenges and largely focusing on industrial IoT and connected cars where returns are high. Cypress is leveraging Broadcom's IoT products to deliver a one-stop solution for automotive and industrial IoT. Even Intel and Texas Instruments (TXN) are focusing on industrial IoT and autonomous vehicles to boost IoT sales.
What could boost the adoption of IoT?
Companies are also looking at ways to boost the adoption of IoT by adding more capabilities on a single device. Nvidia (NVDA) and Intel are looking at edge computing where some degree of AI capability is put inside the IoT device (e.g., a security camera capable of image recognition).
Next, we'll look at the IoT opportunity created by autonomous vehicles.