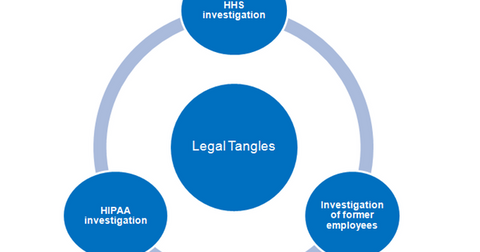 What's behind Insys Therapeutics' Legal Tangles?
By Kenneth Smith

Updated
Legal investigations
Companies in the healthcare space are subject to national, state, and local government regulation in the United States. Thus, interaction with government agencies occurs regularly. Insys (INSY) has been a part of several government investigations recently.
Article continues below advertisement
HHS investigation
Insys received a subpoena in December 2013 from the inspector general of HHS for an investigation of potential violations that involved HHS programs. This subpoena was issued in connection with an investigation by the US Attorney's Office for the District of California requesting documents regarding the company's business, which included the commercialization of Subsys. The company has furnished documents in response to the subpoena and continues to cooperate with the investigation.
HIPAA investigation
In September 2014, Insys received a subpoena pursuant to HIPAA from the US Attorney's Office for the District of Massachusetts. This subpoena requested documents regarding Subsys, which also included Insys sales and marketing practices related to Subsys. Insys has produced documents in response to the subpoena and continues to cooperate with the investigation.
In connection with these investigations, the company has engaged in discussions with the DOJ including a resolution of potential liability. As of September 2017, company management had accrued $150 million, which is the company's estimate of the exposure to the potential liability.
The company is also involved in ongoing discussions with the government regarding related contingency-based payments, which if triggered, would require Insys to pay up to $75 million in aggregate.
Investigations related to former employees and healthcare practitioners
In 2016 and 2017, several former Insys employees were charged with various charges including conspiracy to violate the federal anti-kickback statute in regard to health care professionals who prescribed Subsys, distribution of a controlled substance, drug conspiracy, health care fraud conspiracy, money laundering, wire fraud, and identity theft.
In light of the potential contingency payments, the cash position of the company begs a deeper scrutiny. The current ratio of Insys, a measure of how efficiently a company can meet its current liabilities, stands at 0.90. Peers GlaxoSmithKline (GSK), Merck (MRK), and Teva (TEVA) have ratios of 0.60, 1.4, and 1, respectively.
Insys makes up about 0.02% of the iShares Russell 2000 Growth ETF's (IWO) total portfolio holdings.