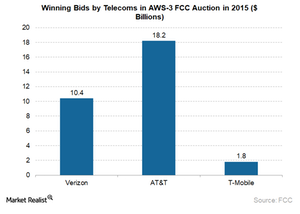 Inside AT&T's Plans to Offer 5G Mobile Services by 2018
AT&T plans to launch 5G services in 2018
AT&T (T) has announced plans to roll out its 5G network in some markets by the end of 2018. AT&T plans to base its standard on the 5G NR (new radio) guidelines specified by the 3rd Generation Partnership Project (3GPP).
Although AT&T has not disclosed the 5G speeds and devices on which 5G services would work, the company noted that its network would be based on the newly accepted industry standard for 5G technology.
Article continues below advertisement
AT&T continues to work on 5G Evolution
This plan comes after AT&T announced its 5G Evolution network in 2017, which focused on the rebranding of AT&T's existing LTE (Long-Term Evolution) technologies. The telecom giant seeks to focus on expanding its LTE and 5G Evolution networks.
AT&T is a competitive player in the 5G space
AT&T (T) has been a competitive player in the 5G market. However, AT&T is the last of the four leading US (SPY) carrier companies to announce plans for 5G. Verizon (VZ) has also planned to roll out its 5G service in five cities by the end of 2018.
Sprint (S) and T-Mobile (TMUS) announced plans to start rolling out their 5G networks in 2019. However, T-Mobile said that the end of 2020 would see the completion of nationwide coverage of its 5G services.
AT&T acquired spectrum worth $18.2 billion in 2015 during the AWS-3 spectrum auction, becoming the highest bidder. During the same event, Verizon acquired spectrum worth $10.4 billion, while T-Mobile acquired spectrum worth $1.8 billion, as shown in the graph above.