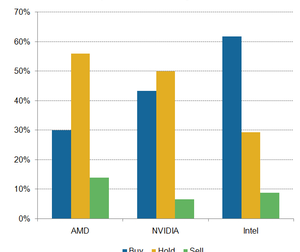 Inside AMD's Growth Potential: Why Some Analysts Remain Skeptical
By Puja Tayal

Jan. 31 2018, Updated 7:30 a.m. ET
Analyst recommendations and ratings
Wall Street analysts have expressed mixed views of Advanced Micro Devices (AMD) and NVIDIA (NVDA) and have given consensus "hold" recommendations for both stocks. AMD has a consensus price target of $13.0 and is currently trading at $12.4, while NVIDIA has a price target of $234 and is trading above $236.0.
However, analysts are bullish on Intel (INTC) and have a consensus "buy" recommendation for the stock, with a consensus price target of $49.0.
Article continues below advertisement
Analysts' views of the cryptocurrency trend
Morgan Stanley analyst Joseph Moore has given an $8 price target for AMD and has raised the calendar 4Q17 EPS (earnings per share) estimates for AMD and NVIDIA to $0.09 and $1.25, respectively. But Moore doesn't recommend a "buy" for either stock, stating that these earnings may not be sustainable in the long term—especially for AMD.
In November 2017, Moore stated that the demand for GPUs (graphics processing units) from crypto miners is fading, with ethereum mining down 80% over the past four months. Moore expects this slowdown to reduce AMD's GPU demand from cryptocurrency mining by 50%, or $250 million, in fiscal 2018. However, ethereum prices have increased, sending GPU demand up once again.
This short-term growth has brought a higher payoff for AMD, but its long-term profits look dicey as the crypto trend is eclipsing the weakness in the PC (personal computer) processor market. The company doesn't report its PC CPU and GPU sales separately, which makes it difficult to gauge what's actually driving sales growth, and to what extent.
Morgan Stanley's Joseph Moore also raised concerns that a shortage of its Vega GPU could be limiting AMD's opportunities in its core market of gaming. Moore's survey showed that high-end client CPUs had limited traction, while Vega GPUs aren't available at all in Asian (AAXJ) markets. As gamers aren't able to get their hands on AMD's Vega, they've been switching to NVIDIA's GPUs, and if NVIDIA's GPUs aren't available for a long either, PC gamers might switch to some other mode of entertainment, cooling down the hot trend of PC gaming.
This issue is a pressing one for AMD, as it's more exposed to the cryptocurrency trend. In NVIDIA's case, it has many other upcoming growth trends, such as the Volta GPU for AI (artificial intelligence) and autonomous driving—both of which will likely drive the future growth of the company.
For this reason, investors have so far preferred NVIDIA over AMD, though investors can't really ignore AMD because it still has so much potential to grow. We'll take a closer look at the specifics of AMD growth potential in the next and final part of this series.