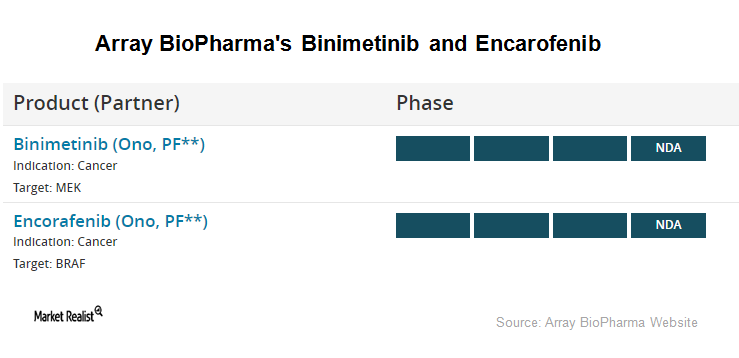 An In-Depth Look at Array BioPharma's Pipeline of Drugs
By Kenneth Smith

Jan. 31 2018, Updated 7:31 a.m. ET
Binimetinib and encarofenib
In March 2015, Array BioPharma (ARRY) got the development and commercialization rights for binimetinib, an investigational MEK (mitogen-activated protein kinase kinase) inhibitor and oncology drug, and encorafenib, a BRAF inhibitor, under asset transfer agreements with Novartis (NVS). Based on the agreements, Array BioPharma has received an upfront payment of $85 million from Novartis. These two drugs present an important opportunity for Array BioPharma in the area of oncology.
Article continues below advertisement
Novartis continues to reimburse Array BioPharma for the Phase 3 COLUMBUS trial, which studied encorafenib in combination with binimetinib in patients with BRAF-mutant melanoma. In 1Q18, the reimbursement was $18.2 million, and the total revenue and upfront payment received by Array BioPharma from Novartis is $326.3 million since the start of the agreement in 2015.
Agreements with Pierre Fabre and Ono Pharmaceutical
Array BioPharma has entered into development and commercialization agreements with Pierre Fabre Medicament and Ono Pharmaceutical in relation to binimetinib and encorafenib.
In December 2015, Array BioPharma granted commercialization rights to Pierre Fabre for binimetinib and encorafenib in all countries except the United States, Canada, Japan, Korea, and Israel.
Similarly, under a licensing, development, and commercialization agreement entered into in May 2017, Array BioPharma granted exclusive rights to Ono Pharmaceutical to commercialize binimetinib and encorafenib in Japan and Korea. Array BioPharma received $31.2 million from Ono Pharmaceutical.
Array BioPharma is eligible for double-digit royalties from Ono Pharmaceutical on sales of binimetinib and encorafenib. These royalties start at 22% and can go up to 25%.
Array BioPharma's fiscal year ends on June 30, so fiscal 2018 refers to the fiscal year ending on June 30, 2018. The first quarter of fiscal 2018 ended on September 30, 2017.
Array BioPharma makes up 0.07% of the Vanguard Extended Market ETF's (VXF) total portfolio holdings.
In the next part of this series, we'll take a look at BioPharma's BEACON Phase 3 trial.