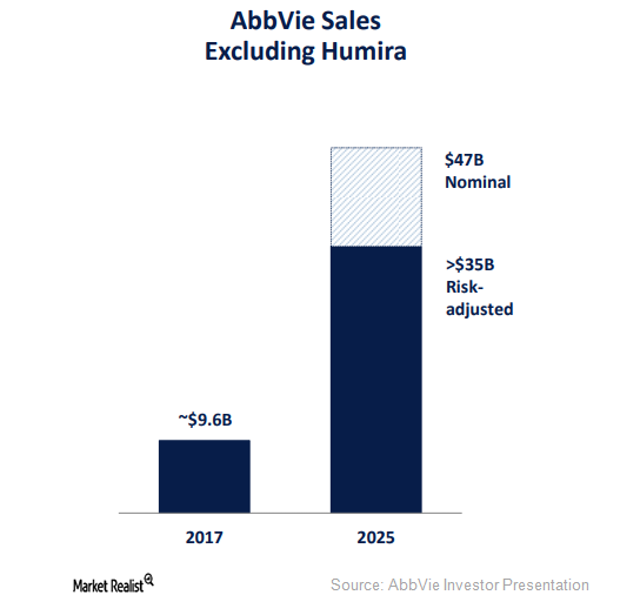 How Increasing Biologic Penetration Could Boost AbbVie's Revenues
By Margaret Patrick

Jan. 7 2018, Updated 10:09 a.m. ET
Increasing biologic penetration
AbbVie (ABBV) is currently focused on advancing the research programs for its late-stage immunology assets, Upadacitinib and Risankizumab. This is expected to allow the company to reduce its over-reliance on Humira while benefitting from the underexplored growth opportunity in the biologics segment.
AbbVie has estimated the biologic penetration in the US rheumatology market to be ~39%, while in international markets, the penetration is close to 18%. The company has also estimated that the biologic penetration levels for gastroenterology will be close to 29%, while the penetration for dermatology will be 10% in the US.
Article continues below advertisement
The penetration levels of biologics in gastroenterology and dermatology are expected to be even lower in international markets—close to 18% and 3%, respectively. The company expects to witness increasing penetration of biologic therapies across all indications and geographies over the next ten years.
Notably, AbbVie accounts for 1.5% of the Vanguard High Dividend Yield ETF's (VYM) total portfolio holdings.
Growth platforms
AbbVie expects its non-Humira sales to rise from $9.6 billion in 2017 to ~$16.0 billion in 2020. The company also projects that its non-Humira sales will exceed $35.0 billion in 2025. This revenue growth is expected to be driven by 20 or more new drug or indication approvals expected by 2020.
The company expects to benefit from the label expansion of Imbruvica between 2017 and 2021 and from Venclexta's expansion between 2018 and 2022. With Imbruvica and Zinbryta, AbbVie expects to pose tough competition to other hematologic oncology players like Celgene (CELG), Amgen (AMGN), and AstraZeneca (AZN).
AbbVie expects to launch the investigational drug Rova-T for the third-line-plus SCLC (small cell lung cancer) indication in late 2018 or in early 2019. The company also expects to witness a significant indication expansion for this therapy between 2019 to 2023—and even beyond this time frame.
Additionally, AbbVie is also working on various research programs involving its Stemcentrx platform, immune-oncology, antibody-drug conjugates, and bispecifics to advance its solid tumors pipeline and to develop first-in-class or best-in-class assets.
Beyond this, Mavyret and Zinbryta are also expected to contribute significantly to AbbVie's revenue trajectory in coming years. Immunology drugs such as Upadacitinib and Risankizumab, which are expected to be launched in 2019 for rheumatoid arthritis and psoriasis, respectively, are also expected to add to AbbVie's revenues in future years.
AbbVie expects Elagolix to be launched in the US for endometriosis indications in 2018. The label expansion of Elagolix should last until 2020, while the expansion of Upadacitinib and Risankizumab should go on from 2021 to 2023 and should play a pivotal role in boosting AbbVie's sales trajectory.
In the next part of this series, we'll discuss AbbVie's immunology research programs.