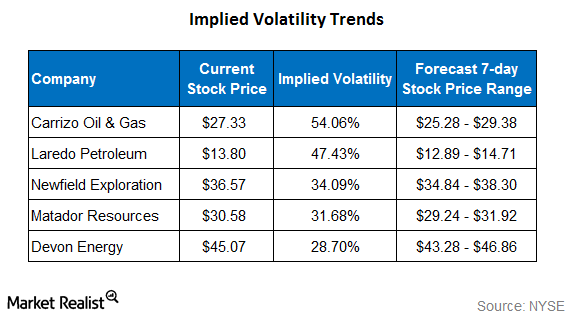 Implied Volatility of Top 5 Return on Equity Upstream Stocks
Implied volatility
On January 3, 2018, Carrizo Oil & Gas (CRZO), Laredo Petroleum (LPI), Newfield Exploration (NFX), Matador Resources (MTDR), and Devon Energy (DVN) had implied volatilities of 54%, 47%, 34%, 32%, and 29%, respectively. These upstream stocks are in the top-five category when scaled by a TTM (trailing 12-month) ROE (return on equity).
Article continues below advertisement
Using implied volatility to forecast stock price ranges
If we take the implied volatilities of the above companies and assume a normal distribution of stock prices with a standard deviation of one, their stocks will likely close in the following ranges with a probability of 68.2% over the next seven days:
Implied volatility is an options-model-based estimate of a stock's future volatility. While it enables a theoretical estimate of a stock's potential moves, the direction can't be forecast.
As we can see above, CRZO has the highest implied volatility among its peers, while DVN has the lowest implied volatility.
A higher implied volatility means less expectancy of stability in a stock and that investors expect the stock to move significantly in either direction, meaning higher implied risk. In the next and final part of this series, we'll look at short interest trends for these companies.