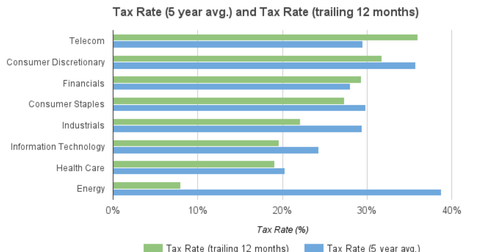 How Tax Plan Has Affected IBM and Tech Sector in General
By Anne Shields

Updated
Tech sector has been one of the lowest taxpaying sectors
Earlier in the series, we discussed how the recently enacted tax plan impacted IBM's (IBM) fiscal 4Q17 earnings and the tech sector in general. Overseas cash repatriation back to the country and corporate tax rate reduction were two key parts of the tax bill.
The below chart shows that on average in the past five years, the IT and Healthcare sectors have paid the least taxes. Apple (AAPL), Facebook (FB), Microsoft (MSFT), and Google (GOOG) feature among the top 17 companies with the biggest pile of cash reserves. Close to 33% of Amazon's cash reserves are parked abroad.
MSN reported that in the last 11 years, 375 companies in the S&P 500 Index (VOO) have paid less than 35%. When it comes to blue-chip companies, the majority of them pay less than 30%.
Article continues below advertisement
Citing recent analysis from Goldman Sachs (GS), which reduced its tech sector rating from "overweight" to "neutral weight," Investopedia wrote, "Tech has the lowest effective tax rate of any sector [24%] and would benefit the least under the various proposals." Before the bill passed, analysts wrote, "Although Tech has the highest expected sales growth and profit margins, it also has the highest risk from tax reform, valuation, and government regulation."
Health care and tech (QQQ) are the two sectors that are expected to see the smallest gains from tax reforms.