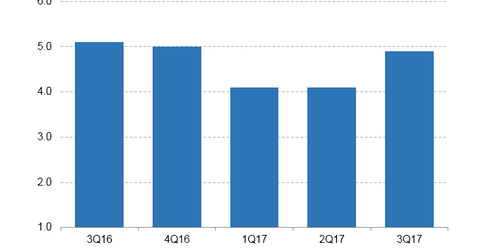 How PayPal Evaluates Acquisitions
By Neha Gupta

Updated
PayPal acquired two companies in 2017
In 2017, PayPal (PYPL) completed two acquisitions: Swift Financial and TIO Networks. Whereas the company didn't make any acquisitions in 2016, it completed four acquisitions in 2015, according to Crunchbase.
Payment rivals Apple (AAPL), Amazon (AMZN), and Square (SQ) also went shopping for strategic assets in 2017. Square, the other company run by Twitter (TWTR) CEO Jack Dorsey, completed one acquisition in 2017. Apple and Amazon completed 12 and eight acquisitions, respectively, in 2017.
Article continues below advertisement
PayPal looking to acquire growth companies
At the Credit Suisse 21st Annual Technology, Media & Telecom Conference, PayPal chief financial officer John Rainey shed some light on the company's acquisition strategy. After disclosing that the majority of PayPal's cash is held in offshore accounts and that the company was examining US (SPY) tax reform, Rainey went on to say that PayPal would be more aggressive in allocating its capital, irrespective of whether it repatriated the offshore cash.
If it comes to acquisitions, PayPal would be interested in acquiring companies that achieve what it wants, Rainey said. He added that PayPal would look into high-return, growth-oriented businesses to acquire.
Providing comprehensive financial services
PayPal's goal is to be able to offer comprehensive financial services that go beyond payment processing. In addition to payments, PayPal supplies loans, and a recent integration with Acorns saw it expand into investment services. The Acorns integration enables PayPal customers, which stood at more than 218 million at the end of 2017, to participate in an automatic saving and investing program.
However, PayPal is looking beyond acquisitions to meet its goal of providing comprehensive financial services. Rainey revealed that PayPal also leverages strategic partnerships to achieve its goals, adding that the company has entered into nearly 25 different strategic partnerships since it separated from eBay (EBAY) in 2015. Through partnerships, PayPal can get what it wants without spending its cash on acquisitions. PayPal closed 3Q17 with cash holdings of more than $4.9 billion, as shown in the chart above.