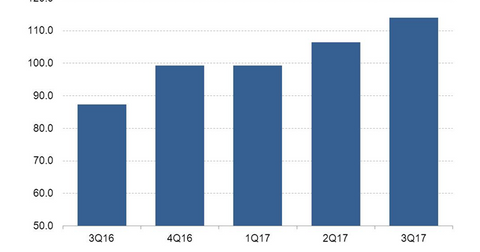 How eBay's Exit Could Affect PayPal
By Neha Gupta

Updated
Transaction volume grew 30%
eBay (EBAY) is PayPal's largest customer, accounting for ~13.5% of the transaction volumes that PayPal (PYPL) processed in 3Q17. PayPal's payments transaction volume grew 30.0% year-over-year to $114.0 billion in the quarter. Its volume growth accelerated from 23.0% YoY in 2Q17 and 25.0% YoY in 3Q16.
Article continues below advertisement
eBay retained PayPal as main payments processor
PayPal was originally an eBay business before it separated in 2015. At the time of the separation, PayPal and eBay entered into an operating agreement that included PayPal acting as eBay's primary payment processor until 2020. 
As 2018 opens, that contract expires in just two years. Although there is a provision for the companies to extend the contract, eBay could elect to sign another payment processor outside PayPal. 
PayPal's exposure to eBay is diminishing
PayPal's chief financial officer, John Rainey, discussed this matter when he addressed a recent Credit Suisse technology conference. Rainey noted that eBay's exit would not sink PayPal. Although eBay represented 13.5% of PayPal's volume in 3Q17, Rainey added that PayPal's exposure to eBay has been diminishing.
Rainey stated that eBay's share of PayPal's volume has been dropping ~3.0%–4.0% every year. This implies that eBay would be a small piece of PayPal's business when the current contract expires in 2020. This trend suggests that the impact would be minimal if eBay decides to pull out.
PayPal has sought a payment contract with Amazon (AMZN), but nothing has been solidified yet. However, PayPal has a payments arrangements with China's (MCHI) e-commerce giant Alibaba (BABA) and the country's Internet search titan Baidu (BIDU).