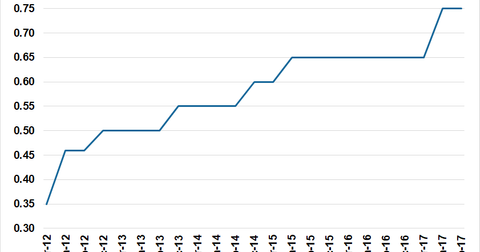 How Goldman Sachs Is Rewarding Investors
By Raina Brown

Jan. 8 2018, Updated 7:33 a.m. ET
Share price performance
Goldman Sachs (GS) reported revenue of $8.3 billion in 3Q17, the highest in the last seven quarters, beating analysts' estimate by 10.4%. Its share price has risen from $156.98 on March 1, 2016, to $257.72 on December 1, 2017. It has risen 16.9% in a span of six months and 12% in the past three months. The one-year price target is $258.40.
Its performance is backed by strong mergers and acquisitions and investing and lending activities. It reported EPS (earnings per share) of $5.01 in 3Q17, beating the Wall Street consensus estimate of $4.17 by 20%.
Article continues below advertisement
Lower payout ratio
GS has been paying dividends since its inception. The dividend has risen from $0.12 per share to $0.75 per share in 18 years. But the increase in dividends has been very low compared to the rise in its stock.
Dividend payments have been low compared to its peers. GS paid a dividend of $2.03 in 2013, $2.25 in 2014, $2.55 in 2015, and $2.60 in 2016. Its five-year dividend growth rate is 12.3%.
Dividend yield for GS is 1.2%, while competitors JPMorgan Chase's (JPM) is 2%, Morgan Stanley's (MS) is 1.2%, and Wells Fargo's (WFC) is 2.5%. Together, these banks account for 28.6% of the Financial Select Sector SPDR ETF (XLF).
The payout ratio for GS is much lower than its peers, as you can see below:
GS has a different approach when it comes to giving returns to its investors. It announced share repurchases of 9.6 million in 3Q17 with an average cost of $225.12 and a total cost of $2.2 billion. It repurchased 6.6 million shares at a cost of $221.92 per share for a total cost of $1.5 billion in 2Q17. The buybacks have been increasing over time, thus reducing the total outstanding shares.