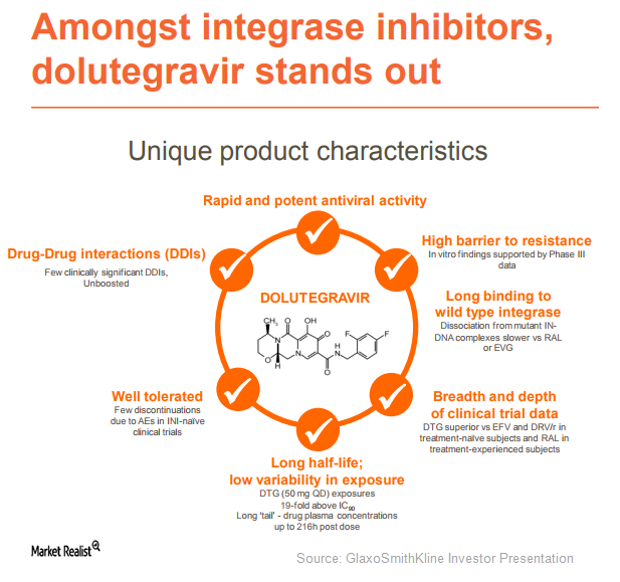 GlaxoSmithKline Projects Tough Environment for Triumeq and Tivicay
By Margaret Patrick

Jan. 31 2018, Updated 9:03 a.m. ET
Triumeq and Tivicay growth trends
In 3Q17, dolutegravir franchise drugs Triumeq and Tivicay were major drivers of GlaxoSmithKline's (GSK) rising HIV portfolio revenues. However, these revenue numbers were partly offset by falling sales of the company's HIV drugs such as Epzicom/Kivexa, mainly attributable to increasing generic competition in Europe. Triumeq and Tivicay are marketed by ViiV Healthcare, a joint venture of GlaxoSmithKline, Pfizer (PFE), and Shinogi.
Article continues below advertisement
At the end of 3Q17, GlaxoSmithKline had estimated the overall market share of dolutegravir-based regimens to be around 26% in the US, higher than the 23% market share measured at the beginning of 2017. The company also estimated the new-to-brand prescription growth rate for dolutegravir-based regimens to be close to 30% at the end of 3Q17.
GlaxoSmithKline is anticipating an increasingly tougher environment for its HIV drugs Triumeq and Tivicay in 2018 despite dolutegravir being the top core agent for HIV treatment and around 500,000 patients using dolutegravir-based regimens globally. The company expects increased volatility in its HIV revenues on a quarterly basis in the coming years.
Notably, GlaxoSmithKline accounts for around 0.66% of the Vanguard Total International Stock ETF's (VXUS) total portfolio holdings. The above diagram discusses the major reasons that have made dolutegravir the leading integrase to be prescribed in the US as well across the world.
Tivicay prescribing trends
GlaxoSmithKline is witnessing increased demand for Tivicay as compared to Triumeq. Approximately 40% to 45% of the prescribed Tivicay is used by physicians with Gilead Sciences' Tenofovir alafenamide (or TAF) therapy, Descovy. The company expects increased competition for its dolutegravir franchise after the launch of Gilead Sciences' (GILD) integrase inhibitor, bictegravir. GlaxoSmithKline also anticipates some physicians switching from dolutegravir to bictegravir in 2018. However, the company is confident that the majority of physicians will continue with dolutegravir owing to its strong efficacy and robust tolerance profile. Tivicay is thus expected to continue being strong competition to other antiviral agents such as Bristol Myers Squibb's (BMY) Sustiva and Merck's Isentress.
In the next article, we'll discuss expected innovations in GlaxoSmithKline's HIV portfolio in greater detail.