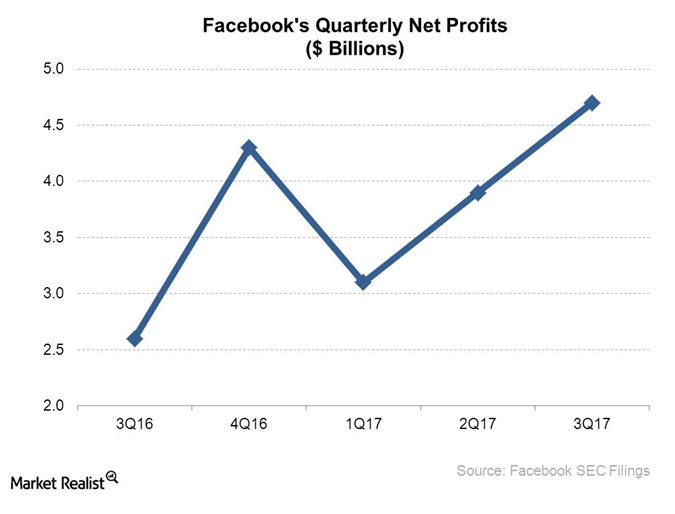 How Does George Soros View Facebook?
An obstacle to innovation?
Facebook (FB) is preparing to report its 4Q17 results after recently coming under fire from billionaire investor George Soros. Soros owns nearly 110,000 Facebook shares, although he greatly reduced his exposure to the stock alongside others such as Twitter (TWTR) in 3Q17. He dropped Apple (AAPL) and Snap (SNAP) from his holdings during the quarter.
During his address at the World Economic Forum in Davos, Soros took issue with Facebook and Alphabet's (GOOGL) Google. According to the BBC's report, Soros described these companies as monopolies that had become a threat to democracy and obstacles to innovation.
Article continues below advertisement
Russia meddling in elections
The comments by Soros appeared to be a gesture toward the controversy about Russia meddling in the 2016 US presidential election. Russian agents are believed to have purchased ads on platforms such as Facebook, Twitter, and Google to publish propaganda in the US ahead of the 2016 vote.
In 2017, Twitter stated that it planned to donate about $1.9 million in advertising revenues it estimates to have generated from certain Russian entities. These entities were believed to have been involved with election meddling in 2016.
Facebook and Google have also announced actions against RT (Russia Today) and Sputnik, the two Russian news outlets accused of spreading propaganda in the US to influence the outcome of the 2016 presidential election.
Investing in platform security
During its 3Q17 earnings call, Facebook said it was planning to make more investments toward strengthening the safety and security of its platforms. The company hoped to avoid future misuse of its products the way certain Russian entities are accused to have done.
As a result of stepping up its investment in safety and security, Facebook noted that it expected a significant impact to its profitability.
Facebook posted a net profit of $4.7 billion in 3Q17, an increase of 79% YoY (year-over-year). Its net profit was $3.6 billion in 4Q16, an increase of 128.0% YoY.