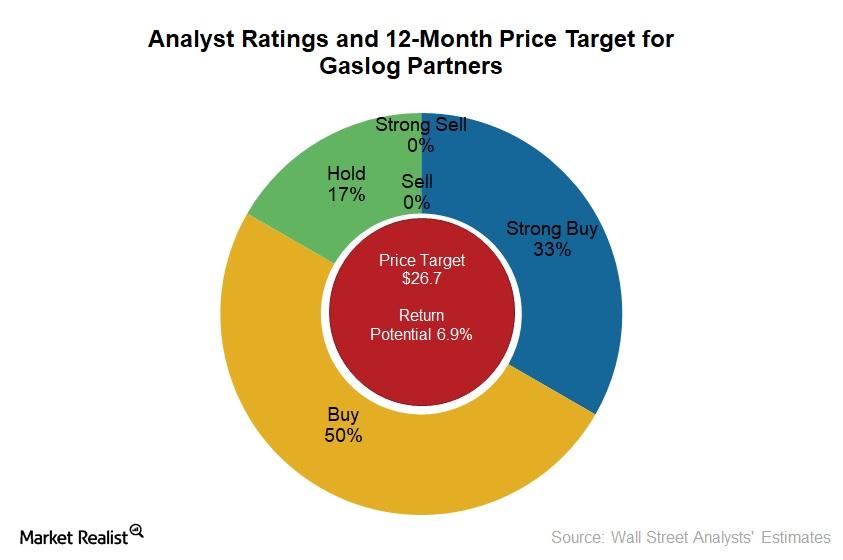 GasLog Partners: Barclays Revised the Target Price
By Sue Goodridge

Jan. 24 2018, Updated 10:30 a.m. ET
Consensus ratings
According to Reuters, 12 analysts gave recommendations for GasLog Partners (GLOP). The consensus rating on the stock is 1.83, which means a "buy."
Below are the consensus ratings for other LNG (liquefied natural gas) (UNG) carrier companies. The ratings are on a scale of one (strong buy) to five (strong sell).
Article continues below advertisement
Consensus recommendation
Of the 12 analysts covering GasLog Partners, four gave it a "strong buy" recommendation, while six gave it a "buy" recommendation. The other two analysts gave it a "hold" recommendation. None of the analysts gave a "sell" or "strong sell" recommendation for GasLog Partners.
Target price
On January 17, 2018, Barclays raised the target price for GasLog Partners to $26 from $25. GasLog Partners' consensus 12-month target price is $26.86. Based on the market price on January 19, 2018, the target price implies a potential upside of 9.0%.
Revenue and earnings estimate
Wall Street analysts expect GasLog Partners' 4Q17 revenue to be $75.39 million—compared to $73.4 million in 3Q17 and $57.9 million in 4Q16. The revenue for 2017 is estimated to be $269 million, which is 17.9% higher than $228 million in 2016. In 2018, GasLog Partners' revenue is expected to be $316 million.
GasLog Partners' EBITDA (earnings before interest, tax, depreciation, and amortization) is expected to drop to $55.4 million in 4Q17 from $53.3 million in 3Q17. The EBITDA for 2017 is estimated at $197.7 million—compared to $165.8 million in 2016. The EBITDA in 2018 is estimated at $232.3 million.